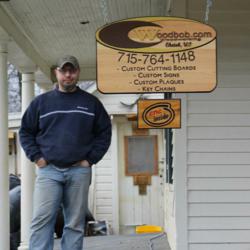 "Your imagination is your only limitation."
Chetek, WI (PRWEB) March 19, 2013
In the past 1 1/2 years since Robert had started his woodworking business, it has been a uphill success from there. Currently he is working on custom-engraved chef knives to add as an accent to his shaped cutting boards. Robert Wendt, Owner of Woodbob.com Woodworking, decided to quit his fulltime job to pursue a lifelong dream of being a business owner. Starting literally from the ground up, using a small horse barn with nothing more than walls and a dirt floor, he had transformed the barn into a workshop. Little did he know that his hard work and determination would be the start of his dream.
Once all the tools were in place, Robert came up with the idea of doing woodworking and creating high quality cutting boards. Knowing that it may be a tough market to target, he had decided to separate himself from the traditional square or rectangle cutting board and wanted to create a state shaped cutting board. With only a thought in place, Robert had no idea what was to come.
At first, he occupied his time with making wood signs and doing furniture repair; however business started out very slow. With his idea still fresh in mind, he had decided to finally pursue crafting the state shaped cutting boards. Business had picked up in October 2011 where he was receiving orders for the cutting boards via his Etsy store Woodbob.com. And by the first week of December, orders were coming in faster than he could comprehend.
For Robert, this was a blessing and an unbelievable triumph of his hard work and dedication. He was creating high quality novelty items of state and country-shaped cuttings boards, clocks, puzzle piece cuttings boards, and butcher blocks for kitchen use.
His high-quality state-shaped cutting boards are not only a great use for cutting on but they also are a wonderful addition of decor to anyone's kitchen. These boards make great gifts for any occasion because you are able to personalize them in any way you would desire with a heart or star on the location of your choice as well as any other engravings you may want to add. Woodbob's cutting boards are high in quality because from the wood to the finish they are made 100% food safe materials.
For Robert, it is more than making money. It's the passion of doing high-quality woodwork and the excitement that his customers get when they see the final product. That in itself, is the utmost importance to him as a business owner. And for the spring season, Robert is now working on custom engraved chef knives in an effort to combine his ideas to use for multiple tools in one's kitchen.