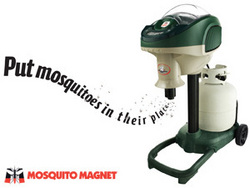 We are pleased to offer homeowners reliable protection with the new, Mosquito Magnet Executive
Lititz, PA (Vocus) March 19, 2010
Woodstream Corporation, developer and manufacturer of the patented Mosquito Magnet® mosquito and biting insect trap, announced the release of the Executive mosquito trap. Combining cordless, smart technology with the proven Mosquito Magnet protection, the Executive is now available at local hardware and home improvement stores as well as on-line.
Both environmentally friendly and effective, the Executive controls mosquitoes and other biting insects in yards up to one acre. Because it needs no electrical supply, the Executive can be placed away from areas where the family congregates and closer to mosquito breeding areas. One charge of the custom, rechargeable battery will keep it running all season long.
The Executive features Woodstream's new Smart Technology, offering five different user-friendly settings, including four fuel-saving modes – can extend propane life up to 30 days. Running the trap 24/7 is optimal as this will break the breeding cycle in a 4 week period. To further extend the life of the propane the trap uses to attract mosquitoes, the Executive automatically powers down when the temperature drops below 50 degrees and powers back up when the temperature rises again. Advanced, yet easy to understand diagnostics alert the user when the Executive's battery or propane is low.
Backed by 18 years of research and 15 patents, all Mosquito Magnet models are scientifically proven to safely and effectively control mosquitoes around people and pets. The Mosquito Magnet Executive model attaches to a simple propane tank; Woodstream's patented catalytic conversion process allows the propane to safely convert to carbon dioxide without using an open flame. The trap works by emitting a mixture of the carbon dioxide, heat and moisture to mimic human breath and capture mosquitoes' attention.
As the mosquitoes draw closer to the unit, a powerful short-range attractant draws them into the Mosquito Magnet's vacuum, which pulls them into a net, where they dehydrate and die within 24 hours. What's more, the Executive features a new, self-contained mosquito net that's easy to dispose of and engineered to allow a continuous, unimpeded flow of air through the unit.
"We are pleased to offer homeowners reliable protection with the new, Mosquito Magnet Executive," stated Andrea Long, Woodstream Corporation Brand Manager. "Woodstream will continue to refine the Mosquito Magnet and develop innovative technology to remain at the forefront of mosquito control."
As all Mosquito Magnet products are backed by our 360° Customer Support Network, the new Executive comes with this comfort as well. We are here to help – by phone, online and in person!
To learn more about the Mosquito Magnet Executive model and gain access to videos, interactive demos and a variety of resources to help choose the correct Mosquito Magnet model, please visit:
MosquitoMagnet.com
New Mosquito Magnet® Executive
About Mosquito Magnet®:
Mosquito Magnet® is the leading biting insect trap in the consumer/residential market and is the only long-term solution that is scientifically proven to effectively reduce mosquitoes and other biting insects.
Pioneering accomplishments:

The first carbon dioxide-based biting insect trap for commercial use
The first propane-powered mosquito trap for consumer use
Lurex3™, the first and only EPA-approved attractant specifically formulated to capture the invasive Asian Tiger Mosquito, a known carrier of West Nile Virus
Patented lure cartridges to gradually release measured amounts of attractants, an advanced design to ensure cartridge replacement and propane refilling are synchronized
Invented the Counterflow™ Technology, designed to emit a precise amount of carbon dioxide, heat, attractant and moisture, while simultaneously vacuuming insects into a net, taking advantage of the mosquito's instinct to turn upwards as it approaches the trap
About Woodstream Corp:
Woodstream Corporation is a long-standing, privately held company and a leading manufacturer and marketer of quality-branded wild bird feeders, rodent control products, caring control products for pets and wildlife, decorative garden accents & natural solutions for lawn and gardens.
# # #