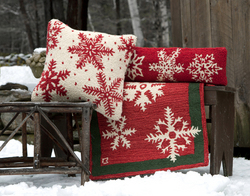 The Holiday Collection is particularly versatile, bringing the seasonal warmth many desire for their homes to interiors ranging from modern and traditional to rustic country charm
Manchester Center, VT (Vocus) July 28, 2010
Henry Chandler, president of Chandler 4 Corners is pleased to introduce their holiday and winter collections for 2010. "The winter and holiday seasons have always been very strong for us. Our designer Laura Megroz brings incredible warmth and charm to the holiday and winter lines. From her whimsical snowmen, skiers and labrador dogs with santa hats to her elegant snowflakes and Christmas trees, Laura's designs have the ability effortlessly transform a home to a winter wonderland or a very special place for the holidays."
Included in the winter and holiday collections are two new product lines introduced earlier this year. "We've had a tremendous response to our new products. First, to our line of wool hooked pillows, we've added a unique shaped pillow called the Horizon Pillow. These pillows, elongated in shape and made with the same hand-hooked quality as all our products, have been very strong. In home accents, a new line of benches and stools have been added featuring our familiar hooked wool seats with rustic hand-finished hickory legs. Both new product lines are represented very well in the winter collection."
Rounding out the winter collections are six newly designed wool throw blankets. Once part of the winter collection, Chandler's blankets were discontinued several years ago. "We hold strict quality standards and our old blankets were not meeting our goals." Henry states. "We have developed a new production process, bringing them to the quality level our customers have come to expect. I am pleased to be able to bring these popular throws back. They fit very well with our winter accents."
Chandler 4 Corner's designs succeed by their ability to complement various decor styles with a refined color palette and sense of timelessness. The Holiday Collection is particularly versatile, bringing the seasonal warmth many desire for their homes to interiors ranging from modern and traditional to rustic country charm.
About Chandler 4 Corners:
Established in 1991 as wholesale producer and distributor of high quality home accent accessories, brothers Henry and David Chandler have brought the company to the forefront of the pillow and rug industry. Chandler 4 Corners is best known for their high quality hand-hooked wool products and the endearing designs of Vermont folk artist Laura Megroz. Their products are available at well over 1,000 stores throughout North America, 25 leading mail order companies and via direct on-line sales at their website, http://www.chandler4corners.com.
###