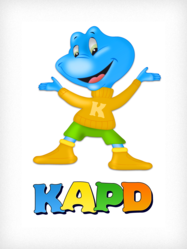 KAPD strives to be the leading creator of fun, educational and innovative products, specializing in collaborative activities for kids and adults.
Chicago, Illinois (PRWEB) March 24, 2013
Kids Across Parents Down, LLC of Matteson, IL is pleased to announce that in April 2013 will mark the launch of Kids Across Parents Down™ as an app on the iOS platform and will be available in the iTunes store.
Kids Across Parents Down™ (KAPD) was launched in 2003 by Jan Buckner Walker. Known as "The Original Crossword Puzzle for Kids and Their Favorite Adults™," Kids Across Parents Down™ features clues that are fun, funny (and often punny), full of word play and often feature popular culture from movies, television and books. KAPD crosswords have become a family favorite by readers of The Washington Post, Los Angeles Times, Chicago Tribune, Atlanta Journal-Constitution, Nick Jr. Family Magazine, Jack and Jill Family Magazine and many other publications.
The app will contain several enhanced components not found on other crossword puzzle apps, these include:

Multiple Challenge levels
Selected clue enhancements
Family versus family competition
Adult/child collaboration, signature to the Kids Across Parents Down™ brand
The app will be free and will include 15 puzzles. Addition puzzles will be available for purchase within the app.
In April 2012, KAPD announced the launch of its newly designed web site which was temporarily parked at KAPD.co. The site has now moved to its permanent home kapd.com and includes more information about its range of products and services.
About Kids Across Parents Down
Kids Across Parents Down™ is an Illinois based multimedia company. Kids Across Parents Down creates content that reaches millions of people via newspapers, restaurants, magazines, apps and digital content. You can follow Kids Across Parents Down on both Facebook and Twitter.