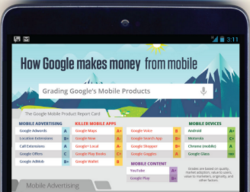 Boston, MA (PRWEB) March 06, 2013
WordStream Inc., a provider of PPC management software, today released a new infographic detailing Google's mobile strategy and key products that are helping Google gain revenue from the mobile market.
In the last year, mobile searches have increased 200%, and it's believed that in the following year, mobile will become the primary method people use for accessing Google's services and search. Google has witnessed the growing trend in mobile and embraced it as a new and promising revenue stream.
New research by WordStream delves into Google's mobile product portfolio, showing mobile strategy investments into valuable mobile products such as Mobile Apps, Mobile Devices, Mobile Content, and Mobile Advertising.
WordStream evaluated and graded Google's collection of mobile products based on product quality, market adoption, user value, marketing value, uniqueness, and other factors. These new mobile products by Google illustrate the trajectory of mobile and the vital part it will play in future revenues for Google and other businesses.
About WordStream
WordStream Inc. provides pay-per-click management software and PPC services that help marketers get better results from their PPC and SEO efforts. The company's services deliver quality traffic, clicks and conversions across all major search engines including Google, Bing and Yahoo Search.
WordStream's easy-to-use software facilitates more effective paid and organic search campaigns by providing a customized workflow, the 20-Minute PPC Work Week, to help advertisers increase relevance and Quality Scores in Google AdWords, follow proven best practices, and get expert-level results in a fraction of the time.
In addition to PPC optimization software, WordStream also regularly publishes infographics concerning subjects surrounding search marketing trends and the top Google keywords.
Whether you're new to search marketing or are experienced at Google PPC advertising, WordStream's keyword tools, AdWords bid management tools, and Quality Score optimization tools can help grow your business and drive better results. Learn more at http://www.wordstream.com.