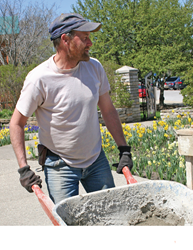 When I got hurt, all I could think about was that (...) my family would have to make sacrifices (...) but Dr. Papandreas saved me from pain, and his amazing staff hugely saved me and my family from financial loss.
Cleveland, OH (PRWEB) May 28, 2013
Dreas Healthcare announced that employees affected by work injury in Cleveland, OH are eligible to receive full treatment from the multi-disciplinary clinic, including spinal decompression therapy, massage, and physical therapy, as part of a customized program, with no out-of-pocket expense. The Ohio Bureau of Workers' Compensation (BWC) does not publicize it, but grants full coverage in emergency situations and first doctor visit after the injury, no matter the doctor of choice at the time. Thereafter, the BWC will continue to cover the treatment of offended employees seeking the assistance of any BWC-certified physician.
Dr. Steven Papandreas attributes the lack of information to the fact that the SB7 amendments to O.R.C. sec. 4123.88, passed in 2008, dictate workers' compensation claimants' personal information is no longer part of public records. Therefore, individuals who suffer work-related injuries do not receive any announcements from services that they could benefit from, such as local rehabilitation centers, specialized clinics, chiropractic centers, etc., and are limited to seeking assistance from the physician appointed by their employer.
BWC-certified himself, Dr. Papandreas says, "Most patients that come to our office are in great pain, and they come in search of relief. Being a BWC-certified clinic allows us to offer them not only relief of their pain, but also of their monetary burden. They can expect to receive comprehensive treatment, at no out-of pocket expense."
Dreas Healthcare has over 13 years of experience in handling workers' compensation claims. Their professionals intimately know the process and the best ways to benefit from the available opportunities pertinent to each case. The knowledgeable staff even assists injured workers with the necessary paperwork to file for lost wages, due to temporary or permanent inability to return to work.
According to Samantha J. McAusland, Director of Patient Relations at Dreas Healthcare, the BWC offers return-to-work programs that lessen the financial, emotional and physical burden for injured workers. "Worker's Compensation benefits pay temporary total compensation based on medical evidence submitted by the attending physician – in this case, Dr. Papandreas. Over the years, we mastered the Request for Temporary Total Compensation (C-84) process and are able to provide patients with great peace of mind, knowing that all is done timely and properly, every step of the way."
McAusland adds, "Our assistance allows these injured workers to get back to work as soon as possible."
Once patients advise the specialists at Dreas Healthcare that they are suffering from work injury, they are offered a full evaluation of the case. They are also automatically guaranteed to receive, without any out of pocket payments, their initial chiropractic examination, first set of X-rays, non-surgical spinal decompression exam, and even a water pillow valued at $60, no matter the outcome of their claim.
Dreas Healthcare keeps all cases private, but Dr. Steven Papandreas is proud to share that one of his patients, suffering from a work-related injury, recently reported, "When I got hurt, all I could think about was that I wouldn't be able to perform my normal activities and work would be compromised. With that, my wages would also suffer, and ultimately my family would have to make sacrifices… That terrified me even more than the injury and pain, but Dr. Papandreas saved me from pain, and his amazing staff hugely saved me and my family from financial loss."
Dreas Healthcare is open to answering questions related to Worker's Compensation medical coverage in the state of Ohio. They can be reached at (440) 779-4226 or through their website at http://www.DreasHealthcare.com.
About Dreas Healthcare
Dreas Healthcare is where Physical Therapy and Chiropractic combine forces to give patients the most comprehensive care for their condition, with a personalized touch. Clinic Director, Dr. Steven Papandreas, is a member of the Ohio Chiropractic Association, Bureau of Worker's Compensation Certified, Licensed in Ohio and Great Britain, and has vast expertise in non-surgical Spinal Decompression Therapy.
The multi-disciplinary clinic has over 90 years of combined experience, and offers a wide range of therapy options. Services include chiropractic, isometric stretching, massage, deep tissue therapy, electric stimulation, ultrasound, traction, non-surgical decompression, physical therapy, and closed-circuit training with Nautilis equipment. The clinic is also equipped with on-site x-ray capability, Zero Gravity Massage chairs, and Pro Vibe.
Dr. Steven Papandreas' proficiency has secured partnerships with the Cleveland Clinic, the Cleveland Browns, WWE talents, and the Scottish Rugby team, in Scotland, where he lived and worked for 13 years. More information can be found at http://www.DreasHealthcare.com or by calling (440) 779-4226 to set an appointment.