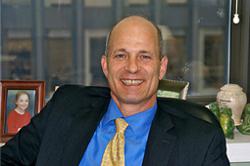 It's easy to think of construction and industrial jobs when we think about workplace accidents and injuries, but in reality, there are serious workplace injuries in a wide variety of jobs in Massachusetts each year[.]
Boston, MA (PRWEB) March 07, 2013
Boston workers' compensation lawyer Steven H. Kantrovitz said today that a recent report of alleged OSHA safety violations by a Burlington mall retailer underscores the fact that workplace injuries can happen in any kind of employment environment.
"It's easy to think of construction and industrial jobs when we think about workplace accidents and injuries, but in reality, there are serious workplace injuries in a wide variety of jobs in Massachusetts each year, including the service and retail industries," said Kantrovitz of the Boston workers' compensation law firm of Kantrovitz & Associates, P.C.
In February, the Occupational Safety and Health Administration (OSHA) office in Andover issued a news release saying that a Burlington Mall retail store had been cited for two alleged repeat violations of workplace safety standards.
Workers at the store faced the risk of being struck by boxes falling from piles of stock in the store's back room that were not secured, OSHA alleged.
Additionally, OSHA alleged that the store's emergency exit route was compromised by boxes of stock that narrowed the route to the extent that it could prevent workers from swiftly and safely exiting the store during a fire or other emergency.
The retailer was issued two repeat citations with $55,000 in fines, according to OSHA.
The U.S. Bureau of Labor Statistics (BLS) says there were 36 fatal workplace injuries in Massachusetts service-providing industry workplaces in 2011 as well as 23 in 2010 and 35 in 2009. Service-providing industries include retail and wholesale trade, warehousing, utilities and transportation. A typical year sees thousands of nonfatal occupational injuries in the retail trade alone in Massachusetts, the BLS statistics indicate.
Kantrovitz pointed out that Massachusetts' workers' compensation program does not discriminate between high- and low-risk jobs, and that there's no need to determine fault in order to secure workers' compensation benefits.
If an employee suffers any kind of work-related injury that keeps them from working, they should be able to obtain benefits, he said.
"Objects falling upon an employee are actually among the most common causes of workplace injuries," Kantrovitz said. "It can be a tool falling from an upper level at a construction site or a box of merchandise falling from a shelf in a store. Either way, if the worker is injured to the extent that it impacts their ability to work, they deserve adequate workers' comp benefits."
The problems injured employees typically face when seeking workers' compensation are not because of the intent of the system, Kantrovitz said.
"Most injured workers are covered by the rules of workers' compensation in Massachusetts," he said. "Problems tend to arise when someone on the other end fails to follow the rules. It can get complicated, and workers who deserve benefits can get short-changed."
Kantrovitz said that to ensure the receipt of full benefits after a work accident, it's important to seek help from a lawyer with a background in handling Massachusetts workers' compensation cases.
"Workers' compensation is a complex program," he said. "An experienced Massachusetts workers' compensation attorney can review an injured employee's case, sort through available options and ensure the worker gets the funds they'll need as their recovery moves forward."
About Kantrovitz & Associates, P.C.
For more than 20 years, the Boston workers' compensation law firm of Kantrovitz & Associates, P.C., has zealously represented the interests of injured and ill workers throughout Massachusetts, including Boston, Essex, Middlesex, Norfolk, Suffolk, Plymouth and Merrimack River. The firm also represents Rhode Island and New Hampshire residents whose injuries occurred in Massachusetts or who were hired in Massachusetts but injured out of state. The office for Kantrovitz & Associates, P.C., is located at One State Street, Suite 1000, Boston, MA 02109. To learn more about the firm, call (617) 367-0880 or use the firm's online contact form.