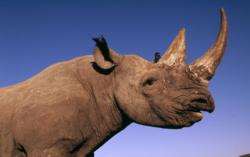 South African authorities are taking rhino poaching very seriously and are beginning to dismantle the sophisticated criminal gangs that are behind the killings
Washington, DC (PRWEB) September 21, 2011
Rhino poaching has reached alarming proportions in southern Africa, and World Wildlife Fund (WWF) is calling for an end to the crisis on World Rhino Day, September 22nd. Officials in South Africa, home to the majority of the world's rhinos, have responded to the recent poaching crisis by increasing protection, conducting more rigorous prosecutions, and imposing stricter sentences on wildlife criminals. Many Asian countries, where consumer demand for rhino horn is fueling the crisis, have still not done enough to address the problem, says WWF.
South Africa has lost more than 287 rhinos in 2011, including 16 critically endangered black rhinos. A majority of the poaching incidents have occurred in the world famous Kruger National Park, but privately owned rhinos have also been targeted. Law enforcement officials have made over 165 arrests so far during the year, and convicted poachers have been sentenced to up to 12 years in prison.
"South African authorities are taking rhino poaching very seriously and are beginning to dismantle the sophisticated criminal gangs that are behind the killings," said Dr. Joseph Okori, WWF's African Rhino Program Manager. "Putting powerful kingpins behind bars for 10 or 20 years will send a strong message to others not to engage in criminal behavior."
An 11-member poaching syndicate accused of killing 20 rhinos and attempting to traffic their horns is scheduled to go to court in South African next week. The defendants include safari operators, veterinarians, and a pilot. The carcasses of the animals were discovered on the safari operators' property late last year.
South Africa will host government delegations from Vietnam and China later this month to address the growing demand for rhino horn in Asia, where it is used in traditional medicine. A visit by South African officials to Vietnam was organized last year by TRAFFIC, the joint wildlife trade monitoring network of WWF and IUCN. The governments will also discuss methods for greater cooperation on law enforcement and during criminal investigations.
"Asian and African governments must work together to disrupt trade chains and to bring wildlife criminals to justice," said Dr. Morné du Plessis, CEO of WWF-South Africa. "Demand for rhino horn and elephant ivory is threatening to destroy a large part of Africa's natural heritage. We want to see illegal markets for these products in Asia shut down for good."
"Rangers risk their lives daily to protect wildlife from poachers and traders who are motivated only by greed," said Matthew Lewis, manager of African species for WWF. "We salute all those working to secure a future for rhinos, and we call on government leaders in Vietnam and China to do their part."
Video: http://www.youtube.com/watch?v=cc-1gXgGOlI
Photos: http://www.divshare.com/gallery/913477-14f
ABOUT WORLD WILDLIFE FUND
WWF is the world's leading conservation organization, working in 100 countries for nearly half a century. With the support of almost 5 million members worldwide, WWF is dedicated to delivering science-based solutions to preserve the diversity and abundance of life on Earth, halt the degradation of the environment and combat climate change. Visit http://www.worldwildlife.org to learn more.
###