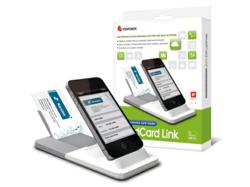 "Our team exhibited WorldCard Link/Pro at CeBIT last week, and we are very pleased about the reception," said DP Deng, Vice President of Penpower Inc. "A number of European visitors and companies displayed a great amount of interest in our product."
Fremont, CA (PRWEB) March 15, 2013
Leading software and product developer Penpower Inc. announces the release of WorldCard Link for iPhone, which is the world's first product of its kind and eliminates manual focusing of camera on the business cards. It literally turns your iPhone into an incredibly fast automatic business card scanner (20 cards in one minute). No more manual focusing, no more fighting reflection spots or shadows on the cards. It automatically captures and recognizes business card contact info, letting you reduce clutter and always being able to find the person you need. All business card information is sorted in respective fields instantly, such as Name, Phone, Email, Address, Company, etc. The app provides convenient functions and lets you sort contacts into groups. You can also search contacts on Facebook, Twitter and LinkedIn, for expanding your social and professional networks. By scanning business cards within seconds, extracting the contact information and syncing directly to a cloud, WorldCard Link allows users to access contacts anywhere, anytime.
The new product comes in two models: WorldCard Link and WorldCard Link pro. The difference is that the pro version bundles an intelligent PC software. Sharing to PC, iCloud, Google Contacts, or Dropbox is quick and easy with WorldCard Link pro. It also integrates seamlessly with Microsoft Outlook contacts.
The companion WorldCard Link app freely available on iTunes App Store works seamlessly alongside the product to maximize efficiency. The application makes it easy to find contacts on Facebook, LinkedIn, and Twitter, to expand social and professional networks. Plus, users can communicate with saved contacts directly from the device. It also centralizes collected information to exchange contact data through Open In, Mail and iTunes File Sharing.
The WorldCard Link dock makes it possible to read cards smoothly without shake, shadow, or reflection. As soon as a business card is placed on it, the information is quickly scanned and stored. Dock Mode is automatic and continuous, which is particularly helpful for business networking events, social mixers, or any other occasion where contact information is routinely exchanged. Available for $39.95 (for iPhone 4/4s, soon for iPhone 5), WorldCard Link product also recognizes and manages business cards in multiple languages, ideal for international business or travel.
"World Card Link Pro is a unique, first of its kind product that offers convenient services unlike any other product on the market".
The new intelligent PC software features a user-friendly interface and intuitive system for syncing contacts and managing them with complete function. Contacts are easily organized to maintain an efficient database on a PC. With WorldCard Link pro users have a complete contact management solution.
Available at Amazon, Newegg, TigerDirect and Fry's Electronics for $69.95 (for iPhone 4/4s, soon for iPhone 5), WorldCard Link pro includes an installation CD, activation card, iPhone dock, warranty card, and quick guide that brings this state of the art contact management solution to PC users. Never lose a contact again. Manage, organize, store, and share valuable contact information for improved productivity and overall efficiency.
Here you can watch the demo video of WorldCard Link Pro: http://www.youtube.com/watch?v=yKr7E_a_PF4
About Penpower Inc.
Penpower Inc. is a US-based software and product development company dedicated to development in core technologies of intelligent interfaces. Founded in 1991, Penpower specializes in creating progressive hardware and software.