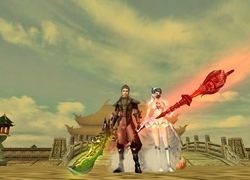 Shanghai, China (PRWEB) January 23, 2009
VestGame Entertainment released the latest version of its popular 3D martial arts game "World of Kung Fu" this week to delight its many players and fans during this Chinese holiday season. World of Kung Fu (WoKF) is a free-to-play massively multiplayer online role playing game (MMORPG) based on the traditional arts and mythology of ancient China.
One key new feature is the ability for players to create their own style of Kung Fu and upgrade it with the new Meridian system. The Meridian system allows players using their own Kung Fu style to become even more powerful by making available new skills and strengthening character attributes. Now players can become Kung Fu legends using styles they have created themselves. The Rebirth system is also new. This allows players to get beyond the existing level cap and explore new realms with enhanced powers.
The latest version also features brand new sets of armor for all classes. Each set can be crafted and refined. The item mall has been expanded to provide a much great variety of ways for players to customize their characters. A new mount is available - the Giant Elephant. And all of the looting pets have been made more helpful and will now enhance player attributes.
In addition to the new systems, armor classes, and item mall items, there are also new quests and significant improvements to gameplay that enhance the overall player experience. Reward ratios from Fortune Boxes and Chao Treasure Boxes have been readjusted to allow superior items. Divine items can now be refined, and several old bugs have been fixed.
All in all, the newest version of World of Kung Fu represents a major upgrade from previous versions, and everyone is encouraged to try for themselves. More detailed information about the many new features and enhancements can be found on the World of Kung Fu website.
About VestGame Entertainment
VestGame Entertainment is the North American publisher of "World of Kung Fu", a fully 3D massively multiplayer online game distinguished by its unique gameplay, beautiful graphics, and exotic storyline. VGE is headquartered in Shanghai, China, and it registered in the United States as a Delaware Corporation. More about the company can be found on the VestGame Entertainment website.
For much more information about the North American version of "World of Kung Fu" including tutorials, forums, screenshots and downloads, please visit http://www.worldofkungfu.com
Contact:
Jonathan Seidenfeld
VestGame Entertainment
jon @ vestgame.com
# # #