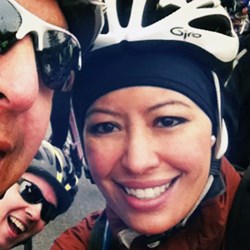 These rides are very much a metaphor for our lives – we can't get through them without determination and the support of others.
Arlington, Virginia (PRWEB) March 05, 2013
A chance viewing of a promotional sign on the Washington Metro subway changed the life of Arlington, Virginia Program Manager Jangela Shumskas.
"What would you say if I told you that I'm trying to make a small impact on this world by riding my bike?" Jangela asks. After reading the subway sign about the challenges individuals face in living with life-threatening diseases, Jangela decided she would do something about it. Signing up for a Raleigh to Washington bicycle ride and purchasing her first road bike to ride the tour, she decided a greater commitment was needed.
"I decided to commit myself to endurance cycling events at least once a year for charitable organizations which target life-challenging issues. Me and my Trek have raised about $50,000 for various organizations over the last decade," she reports. "These rides aren't always easy, but I stay on my bike, and I keep pedaling. I am motivated by my awareness of the difficult journey that others travel without choice. These rides are very much a metaphor for our lives – we can't get through them without determination and the support of others." Jangela has participated in numerous cycling events for charitable organizations, including the Team in Training, Food & Friends, Lance Armstrong Foundation and the PanMass Challenge.
This March 23, at Washington D.C.'s UltraBar, Jangela and her teammates are hosting a special gala that will benefit World T.E.A.M. Sports' Face of America ride.
"We are hosting a Blue Jeans and Ball Gown Gala," the University of Maryland graduate says. "The gentlemen get to wear blue jeans and a blazer and the ladies get to wear their favorite dresses. Guests get to tear up the dance floor from 6 to 9:30 p.m. and UltraBar is contributing ten percent of total bar sales to Face of America." Participants attending the March 23 gala must make a $25 or more financial donation to Team Strength and Honor. A printed donation receipt provides admission.
A member of Team Strength and Honor, Jangela first rode the two-day, 110-mile Face of America bicycle ride from the Pentagon to Gettysburg in 2012. "I have the pleasure of working with several members of Team Strength and Honor. Since they knew I was a cyclist, they suggested I consider participating," Jangela recalls. "I decided that I would participate on two conditions - if I could convince two of my co-workers who were novice cyclists at the time to participate and if I could get my company to sponsor our participation on the team by contributing at least half of our fundraising minimums. My two workers are now addicted to cycling and all of us were deeply, deeply moved by our participation in the event."
For the April 2013 ride, Jangela's employer, Advanced Resource Technologies Inc., is fully supportive of her and fellow staff members' participation in a ride that honors disabled veterans. "ARTI once again made a gracious contribution and I decided that I wanted to try to host an event to increase awareness, raise even more funds and actually celebrate the awesomeness of Face of America," Jangela says.
"Some choices are easy – this is one of them, you get to support our service disabled men and women as they return to an active lifestyle," the adviser for several military-related programs reports.
"It's a great gift to be in a position to make a difference. At this moment, my goal is simple, to help my team meet its $50,000 fundraising goal. This is an incredible opportunity and time to honor our military. They've given their lives, their limbs, time away from family. That's the reason we do this ride. It is to honor the injured as well as the active. As a Face of America rider, I am committed to riding to raise awareness, show strength in numbers, and mobilize others to support servicemen and women with disabilities and their families."
"Someone once said to me 'your perception of what's difficult changes as you get stronger'," Jangela says. "Riding alongside these amazing men and women has proven that to me."