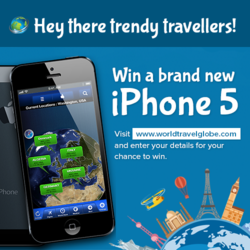 (PRWEB UK) 14 February 2013
This month, 12th February World Travel Globe, a travel assistance iPhone app, is launching a sweepstake to give away a free iPhone 5.
Website visitors are encouraged to enter for a chance to win by clicking on an "Enter Here to Win" prompt on the homepage.
"I'm here to help people who are always on the go," said Marcus Crellin, the creator of the app, who started building it in November 2012. "I'm traveling about 150 days of the year, and it was exhausting to have to look up flight information, currency of countries, time zones, weather and places of interest. I designed an app to help people look up information on one platform, making traveling a breeze."
World Travel Globe plans to launch its mobile app near the beginning of April. Users are prompted to spin the globe icon featured on the main screen of the app to discover new places and adventures for an upcoming travel destination.
The app has the capabilities to pull up flight information and allows users to book flights on demand, as well as to allow one to view top-rated, five-star hotels and the ability to book accommodation.
Additionally, the app pulls up information about the place of visit, including the country population, language, currency used, exchange rate, weather, time difference, and visa requirements. It also features picture galleries, restaurant information, and metro and subway maps.
"I was tired of visiting individual site after site to compile information for trips," said Crellin. "I wanted to design a one-stop-shop for busy people."
The World Travel Globe app also pulls up information about ongoing events and attractions across the world. Users simply click on a destination and will find more information about carnivals, festivals, major sporting events, and more.
The draw ends on 10th April, and the winner of the draw will be selected at random on 12th April. The winner will be selected by using an application called Random Number Generator.
About World Travel Globe
World Travel Globe is an iPhone application that assists with the planning of trips. Spin the globe and hit anywhere in the world to discover new places and adventures for travel destinations, including ongoing events like festivals, major sporting events, carnivals, and more. World Travel Globe will pull up the necessary information from all over the web to help plan a trip from the convenience of your phone, supplying the user with related regional information, weather forecasts, currency and exchange rates, time differences, and visa requirements.