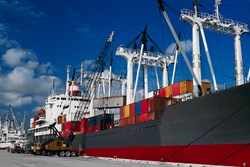 A reliable shipping and transportation service would definitely enhance its benefits, particularly if it is as reliable as Blue shipping line service.
CA, USA (PRWEB) March 29, 2013
The coastal town of Jordan is now included in the shipping services portfolio of Blue shipping line services. Aqaba sea port, which is basically termed as the frontier of the Red Sea is now open for blue shipping line service.
This is the main port for the city of Jordan in the entire Middle East and recently blue shipping line has extended its service to this region also. In addition to being a leading and hottest tourist destination in the Saudi Arabia, the Aqaba sea port is the largest sea port too. It is needless to mention about the oil rich status of the nation itself. Transportation of large containers to this place and export of oil filled containers on a large number makes this sea port of the heavily busiest ports of Saudi Arabia. And a reliable shipping and transportation service would definitely enhance its benefits, particularly if it is as reliable as Blue shipping line service.
The services are extremely customer satisfying. The need and requirement of each of the clients is satisfied with utmost sincerity and dedication. The exclusive shipping services include string, packaging and delivering f the goods in time. Time is an important factor for all traders and blue shipping line abides to this rule vehemently. Apart from this the services offered by blue shipping line at the much demanding sea ports is very cost effective in terms of the ocean freights.
The shipping service methods are very innovative and strict with regards to the safety of the goods and very flexible in terms of dealing with the clients. Packaging is done with utmost care keeping in view any sort of unprecedented natural adversities. Storage is done with even much precision. Gaps are avoided within two containers or any other goods for avoiding breakage and clashing. Delivery is as much efficient as it is promised to be. In time delivery and home delivery for some places is also offered to the clients. In addition to all this insurance benefit is assured for all goods in case of any breakage.
Be it container shipping, car shipping or any other goods while shipping from USA to Aqaba or vice versa is usually less stressed when there is a shipping partner like Blue shipping line.
About Blue Shipping Line:
Blue Shipping Line, started in the year 1978, with an intention of providing household goods transportation service and since its inception, there has never been an adverse issue. Since then till now it has been able to extend it shipping services from USA to even the remotest places. It stands strong in providing shipping services to the entire world. Courteous customer service, insurance coverage for all the goods to be transported and finally timely and fast goods delivery are the beneficiary aspects of a deal with Blue Shipping Lines. Learn more about the company and the services at http://www.worldwideshipping.com/shipping-aqabah.php
LAN Services is an Online Marketing partner of Bluesea Shipping Lines, Inc. The webmasters at LAN Services optimize the websites for their customers effectively to increase the visibility in all the major search engines like Google, Yahoo and Bing. At LAN Services, the team ensures that one's website seen by millions of people worldwide.
Contact Details:
5655 Silver Creek Valley
Road, Suite 436
San Jose, CA 95138
Sales: 1-408-687-4728
Toll-free: 1-877-294-8739
Site: http://lanservices.com