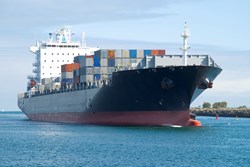 BSL is considered to be the most reliable and the reasonably priced international shipping contributor to Bahrain.
CA, USA (PRWEB) March 21, 2013
Worldwide Shipping Services declares Bahrain to be among its major shipping destinations to cater to the growing needs of the booming business markets of Bahrain. Shipping to Bahrain is much more trouble-free with Bluesea Shipping Lines (BSL). Air Freight, Ocean Freight and Express door-to-door services are various options available with this International Shipping Services provider. Now it is feasible to choose delivery services, getting rate cards to ship to Bahrain, creating shipping labels and scheduling pickups from location, all with a click using the interactive website of BSL.
BSL is totally committed to precision and sound security domination to ensure clients about their goods and services to be shipped internationally. The worldwide shipping company duly informs and is conversant about the International Shipments so that the customer never feels ignored.
BSL Shipping provides shipping of documents, samples, multiple containers, cargo, personnel's, cars or heavy machinery to the desired international mainland. BSL is considered to be the most reliable and the reasonably priced international shipping contributor to Bahrain.
Qualitative packaging is initiated at its origin which is the key towards success in the international market. BSL facilitates hand-picked packing materials & workmanship to provide the highest quality of International shipping of fragile possessions like glassware, crystal & other delicate goods that are individually wrapped & packed into customized containers to obtain maximum protection. Dedicated with strong legal department, it provides firm legal support that carefully specializes in handling all the documentations and all other legal formalities and paperwork that are involved in the efficient flow of goods from its respective places of the desired destinations.
International house moving services by BSL facilitates relocation related to organizations, families and individuals. BSL is emerging swiftly as a trusted brand endorsing experienced and most professional moving staffs to relocate businesses and families using different aspects of an International move to Bahrain. BSL is considered to be the most reliable and the reasonably priced international shipping which enables door-to-door moving services for all moving household goods to and from Bahrain.
BSL is highly specialized in the international car/vehicle shipping to various destinations in Bahrain as well. The company not only transports vintage cars, but sedans, two-wheelers, trucks, buses, watercrafts, sailboats, yachts and other heavy-built constructions too can be shipped at ease with worldwide shipping services from BSL. Considered to be the most reliable and reasonably priced international car/vehicle shipping company Bluesea Shipping Lines excels at all kinds of international shipments to Bahrain.
Shipping of vehicles to Bahrain can usually be done using the most affordable means of transportation i.e., through overseas. Another highlighted the service of BSL is International Shipping of containers to Bahrain, multiple goods, commodities, vehicles and other such fragile items which require high quality physical protection can be conveniently across shores.
About BSL:
Since International exports and imports are the key foundation of shipping for BSL in Bahrain, it offers its dedicated clients with the highest quality of shipping services at the best rates especially for bulk shipping orders to acquire customer satisfaction and expand business as well. Its focus is simply towards connecting the world in various responsible and ingenious ways.
LAN Services is an Online Marketing partner of Bluesea Shipping Lines, Inc. The webmasters at LAN Services optimize the websites for their customers effectively to increase the visibility in all the major search engines like Google, Yahoo and Bing. At LAN Services, the team ensures that one's website seen by millions of people worldwide.
Contact Details:
5655 Silver Creek Valley
Road, Suite 436
San Jose, CA 95138
Sales: 1-408-687-4728
Toll-free: 1-877-294-8739
Site: http://lanservices.com