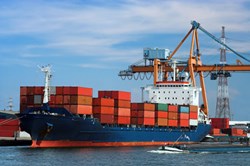 BSL has been shipping goods across the globe with best shipping deals being offered to the consumers.
CA, USA (PRWEB) March 23, 2013
Bluesea Shipping Lines a worldwide shipping service provider has announced their extension of shipping services with lower freights to Dubai. To meet the growing needs of industry, Bluesea Shipping Lines have decided to encompass major cities which are commercially gaining importance at the global level. Being globally accessible to its customers with authenticity and sincerity, Bluesea Shipping Lines aims to serve its customers better and more diligently by expanding its network.
Director of BSL said, "BSL has been shipping goods across the globe with best shipping deals being offered to the consumers. BSL Shipping services are thriving towards success and thus, BSL strives to extend it further with their reliable services at the best prices, coveting almost all major countries across the globe."
In recent years, Dubai has become a major business platform to contribute productivity in the economy. The soaring oil market is giving the city a further economic boost, with businesses thriving and bulging commerce reliable shipping services are called for to Dubai from other parts of the world. Traders across the globe are feeling more comfortable in doing a trade in Dubai. The country also attracts all types of exports and imports from major European and Western countries to emerge as an important business destination worldwide. Keeping all these into consideration, Bluesea Shipping Lines have started their shipping business in the UAE through the port Jebel Ali.
BSL (Bluesea Shipping Lines) offers premium shipping services in UAE, the infrastructure provided by BSL helps businesses to allocate fastest services to its consumers in Dubai. When it comes to delivering time-definite shipments with maximum savings then BSL provides reliability and confidence to its clients.
Exclusive Shipping of containers and heavy vehicles is also accessible whereby the client loads more than one means of transport and mere goods in the container. This has led multiple buyers to easily communicate and trade to serve the best in the market. Since every country has its own import duties, it helps its customers by providing all relevant documentation and contact information of import and export authorities of its destination country.
BSL specializes in UAE shipping, making sure that the goods dispatched by them are delivered on time and also in perfect condition. Shipping of goods includes delicate products of glassware, tableware, furnishing or any heavy metal goods; all are watchfully packed and dispatched using bubble wraps, plywood boxes and plastic seals to avoid damage or fissure of goods.
About Bluesea Shipping Lines:
Bluesea Shipping Lines is highly experienced in valuable shipping of products worldwide. Offering the most competitive rates and finest shipping services in the international market, they are known as the major Gateways in World Class Shipping cross borders. For over 34 years, even before anyone could dreamt or cared of transporting goods from one country to another, Worldwide Shipping Services entered into the market to flourish itself with the finest shipping services dedicated to timely shipment at best prices.
For more information, visit: http://www.worldwideshipping.com/shipping-dubai.php
LAN Services is an Online Marketing partner of Bluesea Shipping Lines, Inc. The webmasters at LAN Services optimize the websites for their customers effectively to increase the visibility in all the major search engines like Google, Yahoo and Bing. At LAN Services, the team ensures that one's website seen by millions of people worldwide.
Contact Details:
5655 Silver Creek Valley
Road, Suite 436
San Jose, CA 95138
Sales: 1-408-687-4728
Toll-free: 1-877-294-8739
Site: http://lanservices.com