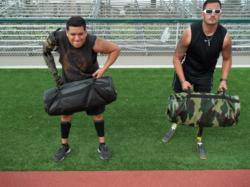 Working with these Marines was an awesome experience.
(PRWEB) March 20, 2013
Rodney Carson, a trainer and track and field athlete, recently completed a grueling two week training exercise with the United States Marine Core's wounded veterans. During the two week regiment, Carson incorporated Ultimate Sandbag Training to help rebuild strength and endurance of those hoping to participate in the Wounded Warrior Games this May.
"I was flattered when asked to share my experience as a trainer in the health and fitness industry, drill instructor, and track and field athlete with our wounded warriors," said Carson.
As a trainer, Carson provided training and support to help the USMC Wounded Warriors prepare for the particular sport they'd be competing in. From the bunch, a select few will be chosen to represent the Marine team at the Wounded Warriors games. Sporting events include wheelchair basketball to archery.
"Working with these Marines was an awesome experience," said Carson. "Despite working through mental and physical challenges these Wounded Warriors pushed through two weeks of intense training with a high level of motivation, energy, positive attitudes and team bonding."
In one particular feat of strength and dedication, USMC Sgt. Marinez fell just short of the finish line during the 200 meter sprint final. However, Marinez didn't let that defeat him. He crawled across the finish line and brought everybody watching to a standing ovation, and according to Carson, made their eyes sweat. Marinez, a bilateral leg amputee, went on to win his division.
Initially designed to provide a complete, full-body workout for those suffering from lower back pain, the Ultimate Sandbag provides a seemingly unlimited variety of maneuvers to accomplish a complete workout while remaining safe and simplistic.
"Ultimate Sandbags are true to their name," said Carson. "There are the best sandbags on the market. Our Wound Warriors liked the rubber grip handles and variety of drills with a simple change of grips."
The 2013 Wounded Warrior Games will be held in May at the Air Force Academy in Colorado Springs. All branches of the military will be present.
About Ultimate Sandbag Training:
Josh Henkin invented the Ultimate Sandbag Training System after physical therapy and traditional corrective exercises couldn't relieve his lower back pain caused by training and competing as a Division I athlete. The idea came after studying old time strongmen that used odd objects to "fill in the holes" of strength training. To date, more than 300 exercises are possible with the Ultimate Sandbag. The system is currently used by professional athletes, military forces and weekend warriors in 70 countries. Additional information is available at http://www.ultimatesandbagtraining.com