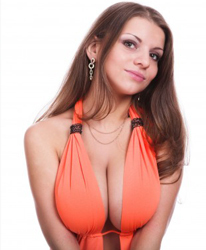 A female porn star can easily appear in 50-100 films per year so this gives mymmoshop.com a lot of exposure for years to come
Santa Monica, CA (PRWEB) June 3, 2009
http://mymmoshop.com, which sells virtual currency for massive multiplayer online games, has contracted rising Russian Porn star, Anna Morgan, to tattoo their company logo and URL on her breasts. The company feels that the link between porn, the internet, and online gaming is as strong as the pairing of peanut butter and jelly, making this an excellent fit.
Anna Morgan is a 19 year old from Zeya, Russia. She likes Tennis, computer games, and hockey. Endowed with natural dd sized breasts, she provides an ample canvas on which to tattoo the advertising logo and URL for MyMMOShop.com. She has just signed a multi year contract with Top Studios in San Fernando Valley in Los Angeles, California. "A female porn star can easily appear in 50-100 films per year so this gives mymmoshop.com a lot of exposure for years to come," according to Hunter Crowell the media relations office for the company.
Anna is set to receive the tattoo at Soul Tattoo Shop on June 15 of this year. She has agreed not to alter it in any way or have it removed for at least two years.
For additional information on the news that is the subject of this release, contact Hunter Crowell .
About:
MyMMOShop.com is a seller of virtual currency for massive multiplayer online games such as WoW Gold, Warhammer Online Gold, Age of Conan Gold, EverQuest Platinum, Lineage 2 Adena, Vanguard Saga of Heroes Gold, EverQuest II Platinum and Final Fantasy XI Gil. It has been in operation since 2003 and has operations in the U.S., Ireland, and Australia.
Contact:
Hunter Crowell
Media Relations
My MMO Inc.
233 Wilshire Blvd
Santa Monica CA 90401
424-354-0478
huntercrowell (at) mymmoinc.com
http://mymmoshop.com
###