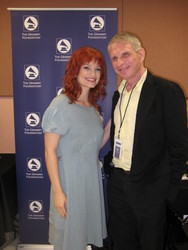 Great music can stand the test of time
Los Angeles, CA (PRWEB) July 18, 2008
Stars from more than 40 years of popular music gathered to honor one of their own; legendary Beatles' producer Sir George Martin. The GRAMMY Foundation's 51st annual Starry Night benefit gala featured a night of performances and tributes from names like Chris Botti, Joe Walsh, Jeff Beck, the group America, Michael McDonald and breakthrough artist Alison Sudol a.k.a. 'A Fine Frenzy'. The event was chaired by Sir Paul McCartney, Ringo Starr, Yoko Ono and Olivia Harrison. And being a star-studded Hollywood event, the night also featured a celebrity 'gift bag' or, in this case a 'swag suite'; a room set aside for stars to sample and receive specially selected products. The Timelapse Wand, anti-wrinkle stick for beautiful skin on the go, along with the new Timelapse G cream with GABA, were among the exclusive gifts presented to about 50 musical luminaries at the event held this weekend at the USC campus.
Developed by Beverly Hills plastic surgeon Dr. George Semel, the Timelapse Wand (TimelapseWand.com) is a wrinkle relaxing and skin tightening stick that is portable enough to carry and use anywhere. One unique feature of the Timelapse Wand is its stick design, which allows it to be used quickly and easily like an ordinary Chapstick, except on the face and neck, as well as on the lips.
"You can touch up, discreetly, anywhere day or night, right over makeup without messing it up," Dr. Semel said. Semel says the Timelapse Wand contains a special molecule naturally derived from Spanish lavender oil that reduces muscle contraction to diminish the appearance of forehead creases, crow's feet, furrows, laugh lines as well as puffiness and bags under the eyes. It also contains dipalmitoyl hydroxyproline, which stimulates collagen and elastin to help rebuild skin cells.
The new Timelapse G (TimelapseWand.com) cream smoothes skin and fills in wrinkles. The Timelapse G has all of the ingredients of the Wand in a cream base with the additional muscle-relaxing power of neuro-inhibitor GABA and Hydrolyzed Sesame Protein for filling in wrinkles. "Both the Timelapse Wand and Timelapse G cream provide immediate short-term results", said Semel, "but unlike Botox, they work to improve the skin over time."
The Timelapse products work because of a synergy of multiple ingredients that provide more effect in combination than they would in larger concentrations on their own. Synergy allows effective treatment for a wider group of people.
Gaining one of the coveted spots at celebrity gift suites and in swag bags has become highly sought after by merchandisers of often very high-price items. However, one of the key features of the Timelapse Wand® and the new Timelapse G cream is that it offers the benefits of expensive wrinkle creams and cosmetic treatments at a price that anyone can afford. The Timelapse Wand and Timelapse G retail for just $25 and $30, respectively, for a one month supply.
"Great music can stand the test of time", noted Dr. Semel. "With a little help, so can your skin."
About Dr. Semel
George Semel, MD, is a board certified plastic surgeon who has practiced in his private Beverly Hills clinic for more than 20 years. He is known for pioneering techniques for less invasive face-lift surgery including the use of surgical adhesives. Incorporating leading edge anti-aging concepts from across the globe, Dr. Semel has become an expert source on the effect of time and the environment on the face and skin. He has developed high quality skincare products since 1995. DrSemel.com
Dr. Semel has appeared on 48 Hours, NBC News, BBC Sky, E! Entertainment, FOX News, Extra TV and Discovery Channel's 'Plastic Surgery: Before and After,' where he performed a face lift. He's been featured in People, US Weekly, Allure, Glamour, and Self magazines, and is the author of the Idiot's Guide to Plastic Surgery.
###