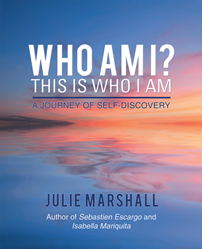 "With our busy lives, it is sometimes difficult to step back and reflect on the impact our past will have on our future," Marshall said. "However, in order to achieve the life we want, we must clearly define our foundation to prepare ourselves for our journey."
ADELAIDE, Australia (PRWEB) March 04, 2019
In order to spark reader's introspection, author Julie Marshall has published "Who Am I? This is Who I Am – A Journey of Self-Discovery" - a unique self-improvement guide for readers to journal and reflect upon various stages and moments in their lives. This book provides readers with pages to journal about childhood memories and teenage years, into adulthood and their overall values and beliefs.
"With our busy lives, it is sometimes difficult to step back and reflect on the impact our past will have on our future," Marshall said. "However, in order to achieve the life we want, we must clearly define our foundation to prepare ourselves for our journey."
"Making time for self-reflection is important to maintain health and wellbeing," said Stephen Wade, minister for health and wellbeing. "I congratulate you on creating an opportunity for people to embrace and capture their personal journey of self-discovery."
"Who Am I? This Is Who I Am" not only helps readers find themselves but can also be a guide for those looking to write a biography/autobiography. Once completed, readers will rediscover who they are and have a framework to help them accomplish their future goals.
"Who Am I? This is Who I Am – A Journey of Self-Discovery"
By Julie Marshall
ISBN: 978-1-5043-1514-2 (softcover); 978-1-5043-1515-9 (electronic)
Available at the Balboa Press Online Bookstore, Amazon and Barnes & Noble
About the author
Julie Marshall is a wife, mother and grandmother who has worked in community relations for 30 years. She has worked as a travel consultant, teacher aide, high school tutor, ESL teacher, development manager and community relations manager. Marshall wrote a children's book, "Sebastien Escargo and Isabella Mariquita, In the Garden," which encourages children to acknowledge, explore and accept each other's differences. With her latest book, "Who Am I? This is Who I Am – A Journey of Self-Discovery," she hopes to help people navigate through life and find themselves. To learn more, please visit https://www.juliemarshallbooks.com/.
General Inquiries:
LAVIDGE – Phoenix
Krista Tillman
480-648-7560
ktillman(at)lavidge(dot)com