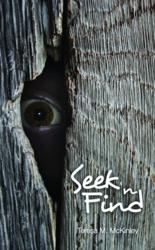 "'Seek 'n Find' was born out of a family tale."
Omaha, NE (PRWEB) December 27, 2012
Teresa McKinley's debut middle grade mystery novel, "Seek 'n Find," is now available for pre-sale. The book is scheduled for a full release in early January 2013.
The middle grade novel, "Seek 'n Find," revolves around the main character, Red Tolliver, who finds herself in the middle of a fascinating mystery. With the help of her friends and cousins, Red begins her investigation into why Great-Grandmother Bertie threatens them to leave her shed alone; why Bertie has such a large herb garden; and how Bertie reads folks' futures by looking at tea leaves.
Author, Teresa McKinley, from Carbondale, IL, spoke briefly about her inspiration for the middle grade novel, "When I was around ten years old, my grandmother told me about her mother who used to read tea leaves for folks in her small town of Alvin, Illinois. She even mentioned to me that she had black magic books which she consulted. Of course being ten years old, my imagination went on overload. Knowing about this has stuck with me throughout my life. It's kind of spooky, but it was definitely part of my family history. "Seek 'n Find" was born out of a family tale."
"Seek 'n Find" written by Teresa McKinley was published by WriteLife LLC, a collaborative publishing company based in Omaha, NE. For more information on this book or any of WriteLife's other publications, visit http://www.writelife.com.
ABOUT THE AUTHOR
Teresa McKinley resides in Carbondale, Illinois. She has co-written a play entitled "Deception" which was performed by a university acting group. She has also written and implemented a grant from the Illinois Arts Council which introduced elementary children to the craft of writing their own play, as well as the creation of puppets and stage props, and has co-written and implemented with Ms. Alberta Skaggs, a summer children's poetry writing workshop entitled "Poppin' with Poetry."
ABOUT WRITELIFE LLC
WriteLife, LLC is a collaborative publishing company. They offer an interactive way for writers to become published and market their literary work. WriteLife advances the author the pre-production and production costs of editing a manuscript, creating a book, and placing it in distribution channels. Once these costs have been reimbursed through book sales, the author is paid 50% royalties on every book sold. For more information on WriteLife, visit http://www.writelife.com.