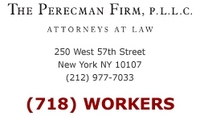 New York's wrongful death laws only allow for compensation to the family for
New York (PRWEB) February 4, 2009
David Perecman, a prominent personal injury accident attorney in New York, brings to light the unfortunate circumstances as a result of an auto accident that left two children dead in Chinatown on the 22nd of January. The fact is, this accident may leave the children's parents to suffer without adequate restitution due to antiquated wrongful death laws in New York. The team of personal injury and vehicle accident lawyers from the Perecman Firm, are trying to fight the current laws that don't compensate the families of victims of wrongful death in New York except in certain circumstances.
According to the NY Times, an unoccupied van that had been left in reverse mounted a sidewalk and rammed into a group of preschool students in Chinatown killing two of the children and injuring at least 11 other people. 4 year old Hayley Ng of Chinatown passed away at the scene, while 3 year old, Diego Martinez lost his life at New York Downtown Hospital. This tragic accident left many people mourning instead of celebrating the Chinese New Year.
"New York's wrongful death laws only allow for compensation to the family for "pecuniary loss", that is financial loss. What this means is that since the children did not earn income or support anyone with that income there is no "pecuniary loss," said David Perecman, leading accident attorney in New York and founder of The Perecman Firm, PLLC. "Unfortunately, business interests and insurance companies have thwarted the efforts to change this law to date. I personally have met with legislators year after year and speak with them about the proposed change. No one ever will tell you they think the change is wrong, but somehow it never happens."
Until the laws in New York are changed, parents cannot sue for loss of love and affection, nor the pain and suffering they experience when their child is a victim of wrongful death. The New York State Trial Lawyers Association seeks legislation to remedy this situation.
About David Perecman and The Perecman Firm, PLLC:
For the past 25 years, the New York personal injury and auto accident attorneys at The Perecman Firm, PLLC have championed all types of cases for personal and construction injuries in New York State. The founder of The Perecman Firm, David Perecman, is also the current Secretary of the New York State Trial Lawyers Association (NYSTLA) and a chair of its Labor Law (Construction Accident Law) Committee. Mr. Perecman's achievements, often in the construction accident field, have brought him recognition as an Honoree in the National Law Journal's 2008 Hall of Fame, in New York Magazine's 2007 and 2008 publication of "The Best Lawyers in America" and has earned him the votes by his peers as among the top 5% of lawyers in the New York region as published in both of the past two issues of The New York Times Magazine "New York Super Lawyers, Metro Edition."
He has recovered millions of dollars for his clients over the course of his career. Among his more recent victories, Mr. Perecman won a $15 million verdict* for an injured NYC construction worker who fractured his arm and injured his knee, a $5.35 million dollar verdict for a woman who seriously injured her heel in an automobile accident, and a $40 million dollar structured settlement for a baby born with brain damage as a result of medical malpractice. Mr. Perecman has spent much of his career advocating for injured victims' rights and addressing safety issues in the workplace. He has also spoken out on the need to update wrongful death laws to create fairness for the unfortunate death of infants, housewives and other low earners in a family. The New York City personal injury and vehicle accident lawyers at The Perecman Firm, PLLC have a depth of expertise and breadth of knowledge well recognized in NYC, while their record and reputation speaks for itself.
*later settled while on appeal for $7.940 million
"Attorney Advertising"
"Prior results do not guarantee a similar outcome."
###