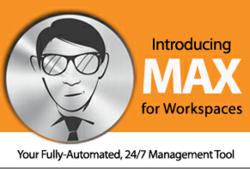 WUN Systems is excited to have MAX join our team and yours. He's the personal assistant that managers have been waiting for. ––Dale Hersowitz
El Segundo, CA (PRWEB) June 12, 2012
WUN Systems, a workspace technology provider, announced the release of new cutting edge technology for business centers and executive suites this week—his name is MAX. WUN Systems is best known for its innovative voice and cloud-computing platforms designed specifically for workspace operators.
Since MAX stepped on the scene, he's created a buzz in workspaces everywhere. If you've haven't been formally introduced—it's time you have. MAX is WUN System's fully-automated, 24/7 management tool. He's WUN's solution to making technology workspace changes seamless. Think of him as your personal assistant. MAX immediately allows the workspace and business center manager to control bandwidth, network security, door control, voice and Wi-Fi. "We're excited to have MAX as part of out team, and we know he will be a valuable asset to workspace managers and owners everywhere" says Dale Hersowitz from WUN Systems.
MAX also gives business center owners and managers full access to billing, reporting, and network status. MAX will monitor all services and devices for your workspace. He'll also keep record of all activities and automate technology changes. He's the workspace operator's right-hand man, helping business centers everywhere troubleshoot problems. With MAX's help, workspace managers will no longer have to spend valuable time and energy focusing on the ordinary. Hersowitz continues, "MAX takes customer service to a higher level. Think of him as your personal assistant, ready to make your life easier."
WUN Systems knows what it takes to exceeded customer service expectations. MAX is just another way WUN has been able to achieve customer service excellence by taking a radically different approach. In 2011, WUN Systems was awarded the Associate Member of The Year award for Excellent Customer Service by the Global Workspace Association, formerly the OBCAI (Office Business Center Association International).
WUN Systems provides workspaces with WiFi, Internet, security, cloud services, voice and data in over 80 cities across North America. WUN Systems' voice and cloud-based technology products enable workspace providers to deliver enterprise-grade products and services to clients. For more information, please call WUN at 877-986-2801 or visit their website http://www.wunsystems.com.