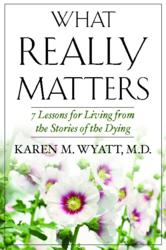 The people who need this book will find the comfort, wisdom and hope they have been seeking in its pages.
Silverthorne, CO (PRWEB) June 25, 2012
Silverthorne, a small town high up in the Rocky Mountains of Colorado, Silverthorne, where Dr. Karen Wyatt lives and writes, is about as far away from New York City as one could imagine. But Dr. Wyatt recently traveled that distance to attend Book Expo America and promote her book of hospice stories: "What Really Matters." The publisher SelectBooks, Inc. arranged a book signing event, which was attended by about 60 people all eager to get an autographed copy of the book and have a chance to speak with Dr. Wyatt.
"Each person who came for the book had a need to tell me their own story of loss or grief," remarked Dr. Wyatt. "Some were dealing with aging parents, some were trying to recover from losing a loved one, others were concerned about a friend." But this is the same reaction Wyatt has received no matter where she has appeared with this book, which is garnering five-star reviews and enthusiastic support from many different groups of readers.
Since the release of this book Dr. Wyatt has observed that "everyone deals with loss and suffering so everyone can relate to this topic." And as a hospice physician who cares for dying patients in their homes, Dr. Wyatt knows this subject well. Her book "What Really Matters" tells the stories of several patients and their families as they approached death and details the life lessons that were learned through that process. In addition the book provides a discussion about those lessons and teaches readers how to apply them to their own lives and find new meaning and purpose in their existence.
According to Dr. Wyatt the book was written to help educate people about hospice services but also to ease fears of dying so that life can be lived and enjoyed more fully by everyone. She is pleased that many readers have described a positive transformation in their views of death and also their approach to life as a result of reading the book. Dr. Wyat t looks forward to many future opportunities to share the wisdom she has learned about life and death as she spreads her message of hope across the country.