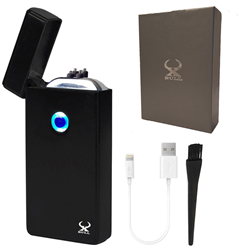 "We'd like to thank all of our backers for their early support of the X BULL, and we're hoping our stretch goals will also be unlocked shortly.
IRVINE, Calif. (PRWEB) October 16, 2018
The X BULL by SPPARX, a patented fuel-less rechargeable plasma lighter, is pleased to announce it has reached its Kickstarter goal.
X BULL is an electronic lighter that offers a unique electric elevated arc design that can adapt to any situation at any time, featuring a cross-patterned spark that ensures powerful performance in any environment, along with a high-powered built-in battery that can provide up to 300 sparks on a single charge from a USB port.
X BULL also announced today that two new features will be unlocked once the campaign raises $15,000: a battery indicator as well as overheating protection, preventing the lighter from igniting if it gets too hot.
"We'd like to thank all of our backers for their early support of the X BULL," said SPPARX co-founder Sherry Ringel. "We're hoping our stretch goals will also be unlocked shortly."
With X BULL, the user is holding the highest-tech lighter in the world, designed with all the features that make it the ultimate fire-making device.
After two years in development, the X BULL represents a 'green' lighter that's less toxic for the user.
X BULL Features:

Rechargeable
Windproof
Flameless
Long lasting battery (280 mah)
No gas or fluid required
Environmentally-friendly
Cool LED power button
Cross patterned spark
New model with open wide arcs
Powerful and instantaneous dual arcs
Elevated arc design especially built to allow for a powerful and intensity ignition of the lighter
Body casing made of durable, sleek zinc alloy
Up to 300 sparks on a single charge
Safe and easy to use, lights at the click of a button
Blue indicator to protect battery life
*Built-in safety function: overheating protection, the lighter can't ignite when the lid is closed or while it charging.
Featuring a clean, matte finish that won't show fingerprints or smears, X BULL is 7 x 3 x 1 centimeters in size, weighs three ounces and each lighter is packaged in an elegant gift box that also includes a USB cable and a cleaning brush.
For more information or to purchase X BULL at a reduced crowdfunding price of $25 while supplies last during the campaign, visit the X BULL campaign page on Kickstarter.
About SPPARX
SPPARX, based in Orange County, California, was established with a commitment to provide the most technologically-advanced lighters. The company's design team recently introduced X BULL – a powerful, safe and high-powered plasma lighter geared for many uses -- as its latest brand. For more information about the company's other innovative lighters, visit https://www.spparx.com/.