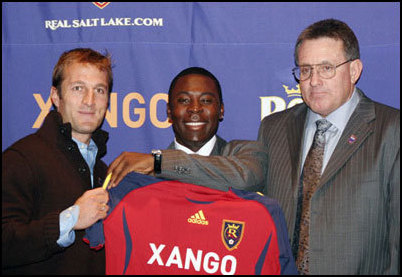 XanGo congratulates RSL on acquiring one of the most iconic figures in professional soccer today. Freddy Adu is a teen phenom and he has become a symbol of soccer's surging popularity in the U.S. and worldwide
Lehi, UT (PRWEB) December 14, 2006
XanGo, LLC, the official title jersey sponsor of Real Salt Lake (MLS), today congratulated the team on signing one of the most recognizable names in professional soccer, Freddy Adu. The international mangosteen category creator and market leader warmly welcomed the 17-year-old superstar to Salt Lake City.
Last month XanGo announced its historic title jersey sponsorship with Real Salt Lake, the first of its kind in U.S. professional sports. The XanGo brand name will be emblazoned on the chest of each RSL player jersey starting with the 2007 season, following the European pro soccer model.
"XanGo congratulates RSL on acquiring one of the most iconic figures in professional soccer today. Freddy Adu is a teen phenom and he has become a symbol of soccer's surging popularity in the U.S. and worldwide," said XanGo Chief Marketing Officer Gordon Morton. "We are also proud to welcome talented goalkeeper Nick Rimando to the team." Morton said he is proud to have Adu and Rimando take the XanGo name to the field of play.
Morton added that XanGo wants to make every game a home game for Real Salt Lake. "With our jersey sponsorship, we are delivering our 600,000 plus distributors worldwide as new fans for RSL and Major League Soccer," he said.
XanGo executives said they are especially inspired by Adu's story in rising to the top of the soccer world. Adu hails from Ghana, where XanGo is currently building a school and helping to improve medical conditions as part of its global philanthropic movement, XanGo Goodness.
About XanGo
XanGo, LLC is a recognized category creator as the first company to market a premium mangosteen beverage, XanGo® Juice, to consumers worldwide. A delicious daily dietary supplement, XanGo® Juice harnesses the nutritional attributes of the whole mangosteen fruit through a proprietary formula. Based in Utah, XanGo is privately-owned and powered by a global network of independent distributors. XanGo's expansive operations include the United States and numerous international markets such as Japan, Australia, New Zealand, Mexico and Canada. To learn more about mangosteen juice,phytonutrients, xanthones, and becoming a XanGo Distributor, visit xango.com. To buy XanGo Juice, visit buy.xango.com.
###