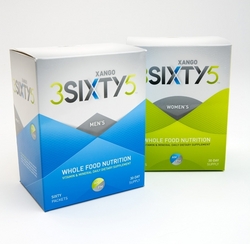 Our chelated approach with whole food is designed to ensure greater bioavailability - so you can better receive the benefits of a full spectrum of vitamins, minerals and essential fatty acids
Orlando, FL (PRWEB) May 31, 2008
Global nutrition leader XanGo, LLC, creator of the mangosteen supplement category, today announced the launch of its 3SIXTY5™ whole food nutrition multi-vitamin brand. Combining the mangosteen rind with botanical phytonutrients from 12 fruits and 12 vegetables, the 3SIXTY5 whole food formula provides a complete blend of vitamins, minerals, essential fatty acids and CoQ10 to fully complement a daily dose of globally renowned XanGo® Juice.
"Taken together, 3SIXTY5 and XanGo Juice provide a daily whole nutrition regimen," said XanGo Founder and Chief Executive Officer Aaron Garrity. "Through the introduction of XanGo Juice nearly six years ago, we established a new category and grew to a billion dollar brand. 3SIXTY5 advances our category and gives XanGo distributors additional opportunity to build their businesses with a complete nutritional product line."
Garrity said XanGo utilizes "chelated technology" which coats 3SIXTY5's whole food ingredients in amino acids, driving increased absorption. "Our chelated approach with whole food is designed to ensure greater bioavailability - so you can better receive the benefits of a full spectrum of vitamins, minerals and essential fatty acids," he said.
Each serving of 3SIXTY5 contains four layers of health protection:

3SIXTY5 Daily Essentials - a complete blend of essential vitamins and minerals at optimum levels in bioavailable forms for full absorption
3SIXTY5 Whole Food Blend - a blend of antioxidant-packed mangosteen peel concentrate plus 12 fruits and 12 vegetables, enabling each phytonutrient to build off the good of the other elements
3SIXTY5 Heart Nutrition - a special blend of CoQ10, marine omega concentrate, olive oil, borage oil, organic flaxseed oil and vitamin E
For Men:
3SIXTY5 Men's Nutrition - a blend of natural ingredients, including saw palmetto berry extract and pumpkin seed oil, designed specifically for men's prostate health and energy
For Women:
3SIXTY5 Bone Nutrition - a combination of highly absorbable, chelated calcium and magnesium enhanced with flavonoids, vitamin D, boron and other absorption-optimizing nutrients
"3SIXTY5's superior blend of specialty nutrients supports cardiovascular health as well as bone and joint nutrition*. Our women's formula provides higher nutrient elements for bone health while 3SIXTY5 for men has a prostate health deliverable," said XanGo Chief Marketing Officer John Digles. "3SIXTY5 is an intelligent, superior absorption formulation with the right amount of nutrients in convenient AM and PM packaging. Together with XanGo Juice, 3SIXTY5 is designed to deliver optimal nutritional benefits and help fortify a balanced diet."
3SIXTY5 is available as of May 31 in the United States and is being introduced in Canada and Mexico, two of XanGo's largest international markets, later this year.
The whole food multi-vitamin can be purchased from XanGo's extensive network of independent distributors. 3SIXTY5 is distributed in men's and women's formulas with each box containing a one-month supply with AM and PM servings.
For additional information on 3SIXTY5 or to find a distributor near you, visit http://www.xango.com.
*These statements have not been evaluated by the FDA. This product is not intended to diagnose, treat, cure or prevent any disease.
###