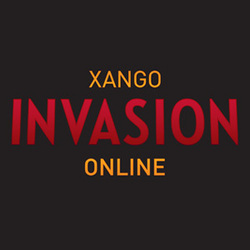 Online INVASION 2.0 on XanGo.TV advances a new industry standard for distributor communications. This series, and the overall XanGo.TV venture, are cultivating an elite level of dialogue with our distributors and giving prospects unparalleled insight into the XanGo opportunity
LEHI, UT (PRWEB) April 18, 2008
Establishing the market's first-ever online televised series, XanGo, LLC distributor leaders and top executives hosted "Online INVASION 2.0" on XanGo.TV, a 30-minute magazine-style program of major announcements and distributor motivation. The second in a series of online broadcast mobilization events, Online INVASION 2.0 attracted viewers from over 23 international markets.
Building on momentum from the first Online INVASION, broadcast in January of this year, viewership for Online INVASION 2.0 again tracked higher than projections, with over 150,000 tuning in for the pilot program. Many distributors hosted group meetings to watch the show and plan their own business growth strategies.
"Online INVASION 2.0 on XanGo.TV advances a new industry standard for distributor communications. This series, and the overall XanGo.TV venture, are cultivating an elite level of dialogue with our distributors and giving prospects unparalleled insight into the XanGo opportunity," said XanGo Chief Marketing Officer John Digles.
Online INVASION 2.0 included major news and announcements such as XanGo's expanded worldwide recognition program, the success of the Share It recruitment promotion and details on the launch of the company's upcoming brand, Glimpse, Intuitive Skin Care. During the program, viewers clicked interactive buttons to purchase swag specials and cases of the popular XanGo® Single. Viewers also ordered a new recruitment DVD featuring advice from top leaders and offered free during the five-day run of the show.
XanGo.TV is the company's brand-centric video sharing site, the first of its kind in the marketplace. XanGo's Online INVASION 2.0 is the first of many planned company events and meetings to be broadcast on XanGo. TV. For more details on upcoming broadcasts, visit http://www.XanGo.TV.
About XanGo
XanGo, LLC is a recognized category creator as the first company to market a premium mangosteen beverage, XanGo® Juice, to consumers worldwide. XanGo continues to lead the category by driving the research, development and advancement of functional mangosteen products. Based in Utah, XanGo is privately owned and powered by a global network of independent distributors. XanGo's expansive operations include the U.S. and numerous international markets such as Canada, Mexico, Japan, Germany and Malaysia. For more information on XanGo, visit http://www.xango.com.
###