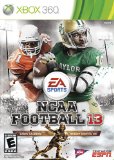 Detroit, Michigan (PRWEB) May 18, 2013
SportsFanPlayground.com is currently offering deals on various Xbox 360 games, accessories and special edition consoles while supplies last. The store is also offering deals on many Samsung LCD, LED and plasma HDTVs.
Samsung Smart TVs are available for up to 35% off in the store right now. The Samsung Smart TV has various modes that allows viewers to interact with family by sharing videos and photos, chat in real time and share various events. The fitness mode utilizes various on-demand videos which allow for viewers to get strong exercise through watching their televisions. The kids mode brings in family-friendly entertainment that allows for kids to play various games that allow for togetherness and learning.
SportsFanPlayground.com currently has various Xbox 360 games marked down up to 30% off, while supplies last. Games that are marked down include Borderlands 2, FIFA '13, NBA 2K13, and Dishonored. The store is also taking preorders on the upcoming games: Call of Duty: Black Ops II, Assassin's Creed III, and Halo 4.
The Sports Fan Playground also has the Xbox 360 wireless controller available for 35% off the retail price, as well as many 1 cent accessories.
For more information, visit SportsFanPlayground.com.
About The Sports Fan Playground -
SportsFanPlayground.com is a leading online e-commerce provider of electronics which range from tablets, PCs and cameras to video games, DVDs, Blu-Ray Discs, appliances, lawn and garden products and more.
The store also carries the top brands in electronics and apparel including, Nike, Adidas, Apple, Sony, Samsung, Microsoft, EA Sports, and many more. The company recently began its initial expansion into clothing and jewelry and will continue to expand over the next several months.
The store recently launched an online grocery store service to further the growth of its brand. The service will allow for food items to be delivered in bulk, such as meats, breads, breakfast items, and more.