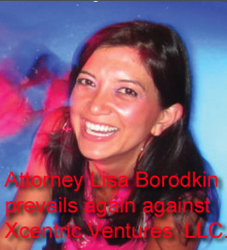 The Court agrees with Borodkin that Xcentric's Motion to Amend appears unreasonable and vexatious in light of the Court's prior orders.
Phoenix, AZ (PRWEB) March 27, 2013
Rexxfield Internet Law Watch reports that according to court documents in case number CV-11-01426-PHX-GMS, US District Court judge G. Murray Snow issued a ruling on Wednesday denying, once again, Xcentric Ventures, LLC's attempts to pursue Internet Defamation Attorney Lisa Borodkin for numerous allegations including but not limited to frivolous prosecution. The attempt to reopen the case came immediately after Borodkin successfully had the case dismissed on November 8, 2012 by the same judge.
According to this recent court order, the Judge also denied Xcentric Ventures, LLC's attempts to compel Borodkin to produce correspondence between herself and Rexxfield CEO & Founder Michael Roberts. In response to the order quashing the discovery requests, Roberts said, "I am relieved that the court found these antics to be unreasonable and vexatious. I have always considered the requests to be nothing more than a fishing expedition."
Michael Roberts is a licensed private investigator and Internet libel victims' advocate and a member of the Civilination Board of Advisers. He assists victims of fallacious internet smear campaigns by bullies or competitors engaging in tortuous interference. He recently launched an Internet Defamation victims support and action group. Michael also provides background support for law enforcement internationally and investigative journalists pursuing stories that involve social networking and Internet related investigations.