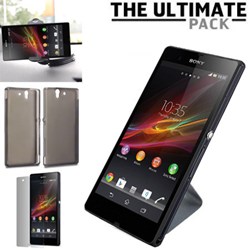 Exclusive to Mobile Fun, the Ultimate Sony Xperia Z Accessory Pack contains six must-have accessories.
Birmingham, West Midlands (PRWEB UK) 6 March 2013
UK online mobile phone accessories retailer Mobile Fun have received stock of the Sony Xperia Z Ultimate Pack: a pack exclusive to Mobile Fun which comes complete with six must have accessories for the smartphone.
Featuring a range of accessories which work together to protect and enhance the user experience with the Xperia Z: the Ultimate Sony Xperia Z Accessory Pack contains a desk stand, car holder, in-car charger, Flexishield skin, portable desk stand and five screen protectors. Each accessory fits the Xperia Z perfectly and doesn't take away from the beauty of the smartphone.
The included Flexishield Xperia Z cover protects the smartphone from daily damage caused by bumps and scratches. It's a lightweight and slim case, so as not to add much bulk to the Xperia Z. The case also contains cut-outs for all the ports and features of the Xperia Z, so that other accessories in the Ultimate Pack can be used with the cover. Team the Flexishield with one of the included screen protectors and the smartphone is completely protected.
Allowing the Xperia Z to be used comfortably in the car, the car holder can be attached to either the dash or windscreen of the car: which ever is the safest and easiest for the user. The car holder can hold the Xperia Z in either portrait or landscape modes too, making it great for using with maps apps. Team this with the included in-car charger and the Xperia Z will never run out of juice on the go.
The final two accessories in the Ultimate Pack are desk stands: one highly portable and perfect for use on the go and the other more substantial and practical for at home or in the office. Both docks however are great for holding the Xperia Z at the bets angle for typing, swiping and streaming media or simply just keeping an eye on notifications.
Containing everything needed to get started with the Xperia Z, the Ultimate Pack full of Xperia Z accessories is available now from Mobile Fun.
-ENDS-
About Mobile Fun
Birmingham based MobileFun.co.uk is the UK's biggest online retailer of mobile phone accessories, sim free phones, tablet accessories and e-reader accessories.
Mobile Fun has offices in the UK, USA, Germany, Spain and France and delivers products to over 50 countries worldwide
Mobile Fun were recently named the 'Best Accessory Retailer' 2012 at the What Mobile Awards and won the title of Online Retailer of the Year' at the Mobile News Awards 2012 for the second year running.