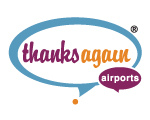 Now XpresSpa offers a premium and seamless Rewards Program to all its business and leisure travelers.
New York, NY (PRWEB) May 19, 2011
With 41 locations in more than 16 major airports in the U.S. and Europe, XpresSpa® is the largest and most prestigious airport spa for business and leisure travelers. While waiting for flights, global travelers relieve stress and tension by treating themselves to one of the many relaxing XpresSpa services. In addition, XpresSpa has created a unique line of exclusive Spa products and travel accessories available for purchase at all XpresSpa Shops. With XpresSpa, you don't have to buy a first class ticket to experience first class service!
"XpresSpa has revolutionized the hassled airport experience for millions of travelers since opening our first location in 2003. Now XpresSpa offers a premium and seamless Rewards Program to all its business and leisure travelers," said Marisol Binn, Co-Founder and President of XpresSpa.
The THANKS AGAIN® Traveler Reward Program enables consumers to earn extra Airline Miles with the purchase of XpresSpa services or products at any one of their 41 Airport Spas. The most popular Travel Rewards can also be obtained when you Shop, Dine, or Park in over 115 airports globally and when you purchase from over 20,000 Neighborhood businesses throughout North America.
In less than 3 minutes, travelers can securely enroll in the loyalty program for free. Just visit http://www.ThanksAgain.com/XpresSpa. Frequent travelers have the opportunity to earn up to 100,000 Bonus Miles annually based on cumulative registered card purchases within the rapidly growing THANKS AGAIN Airport and Neighborhood Merchant Network.
"XpresSpa has differentiated themselves as the preeminent spa and wellness provider of nail, massage, facial and waxing services in the global airport environment. Their spa services and related wellness products are the perfect fit for reward-seeking THANKS AGAIN members," commented Marc Ells, Thanks Again CEO.
About XpresSpa®
Launched in late 2003 by Marisol and Moreton Binn in New York's John F. Kennedy International (JFK) Terminal One, XpresSpa is dedicated to the mission of pampering fatigued and stressed travelers. Today, XpresSpa is an internationally recognized brand and adds two (2) new XpresSpa locations to their growing network every month. Each one services the traveling public on demand with no appointment necessary every day of the year from 6am to 10pm. A few minutes in one of their full service upscale spas leaves travelers feeling refreshed and ready for the journey ahead!
For information on where you can find an XpresSpa and review their Spa Menu, visit http://www.XpresSpa.com.
About THANKS AGAIN®
Thanks Again, headquartered in Atlanta, links members of the most popular rewards programs to airports, airport concessions operators and local businesses to stimulate commerce, loyalty, and customer value. Thanks Again enables frequent travelers to automatically earn extra rewards such as Airline Miles when they shop, dine, or park at more than 100 airports and purchase from over 20,000 neighborhood businesses nationwide.
For more information or to enroll your business in the Thanks Again Traveler Loyalty Network, contact Business Development toll-free at (877) 633-5434 or info(at)thanksagain(dot)com.
# # #