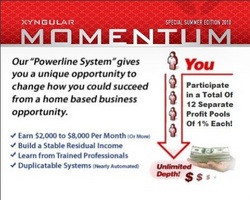 Xyngular is international business opportunity for everyone. Lead the way with one of the fastest growing global expansions in MLM history.
(PRWEB) November 8, 2010
Network Marketing Leaders from around the world are now preparing to their big strike. It is because Xyngular Corporation makes preparations to launch Xyngular in Taiwan. The company just completed their first shipment to Taiwan to test out ordering process and delivery times to open one of the world's most powerful launching pads for the Orient.
According to Xyngular's Chief Operations Officer Glen Oliver "We have tested the shipping methods and pre-customs clearance and all works good, we just need the ordering page and process to be complete and we are full speed ahead". This test shipment to Taiwan is part of what industry leaders are calling one of the most significant global expansions in MLM history - and it's not surprising.
What is Xyngular? Xyngular is a company focused on the production of natural health and wellness products including anti-oxidant defense for the body, energy and weight loss. The product line includes Xyngular Superfruit Global Blend, Xyng – Fuel for Life and Core4 - a new system of losing weight without changing diet or exercise routines. All products have Xyngular's 30-day, 100% money back guarantee.
The company management team has more than hundred years combined experience in the direct sales industry, which is important when you are looking for a great MLM. This team is led by CEO Marc Walker (president). Walker was responsible for more than $500 million in yearly sales with Nuskin International and Xango Corporation.
Prior to officially opening a country, most network marketing companies work within the Not For Resale (NFR) capability, which allows them to increase their organization of leaders. Xyngular will use this strategy to position its leadership around the world while they continue to finish their registration and compliance process in each new country.
XYNGULAR'S UNIQUE STRAIGHT LINE COMPENSATION PLAN
The company requires no structural qualifications to advance to higher levels of their compensation plan. Most compensation plans will only pay their distributors up to a certain point - until they get 3 Managers or 3 Directors, or 3 Black Diamonds etc. If you don't get the structure, you don't get paid. This is one of the biggest frustrations for most leaders in the industry. With Xyngular, you build a team, bring in volume and get paid. What a refreshing change.
What makes Xyngular so unique is its revolutionary Straight-Line Compensation plan. It combines the benefits of a single line "driven leg" similar to binary plans with the long term benefits and fair compensation of a Unilevel compensation plan. Xyngular has taken the benefits of both types of compensation packages and power packed them into one.
Leaders will enjoy the fact that the company offers 12% of the Xyngular's revenue and places it into 12 different leadership pools each paying out 1% of the entire company's monthly volume. This is extremely unique in the Direct sales, Network marketing and MLM industries. Like most other network marketing companies, Xyngular distributors have a number of ways to profit from marketing the company's products including:
1. Retail Profits
2. Four Levels of XyngularRapid Rewards on Initial Case
3. Eight Levels of Xyngular Residual Income plus Dynamic Compression
4. 12% of Xyngular Monthly Sales Volume to Xyngular Leadership Profit Pools
5. Xyngular Quick Start Bonuses
Imagine when Xyngular hits 1 Billion in sales, $120 million will be paid out in leadership bonuses in the profit pools to all distributors. This is going to be a huge commissions amount!
Leaders from companies such as Monavie , Xango, Tahitian Noni , Vemma, Xowii, Mandura, NuSkin and many more are all joining Xyngular to position themselves at the very top of the company's explosive compensation plan.
In North America alone over 70% of the population are suffering from some type of weight problem. This is a global problem and is becoming more and more of a health epidemic each and every year. Xyngular's revolutionary product line reports 8 to 15 pounds of weight loss in as little as 8 days. WOW!
Now is the time to take ACTION and start your Xyngular business with a BANG! Remember that it's all about good timing! Contact MLM Leader Bystrik Kacer and secure your position now.
For more information contact:
Bystrik Kacer
Xyngular Europe
skype: nukegod
phone: +421-949-688-034
drakeman (at) gmail (dot) com
ABOUT BYSTRIK KACER:
Bystrik Kacer is an international expansion leader with Xyngular Corporation. He is dedicated to the success of each new affiliate as they become part of the Xyngular team. Bystrik teaches Xyngular affiliates how to market the Xyngular opportunity using both online and offline strategies.
###