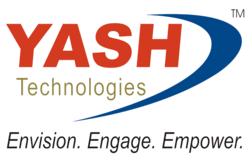 We are partnering with customers to help them revolutionize the way data impacts their organizations.
East Moline, IL (PRWEB) April 02, 2013
YASH Technologies, a leading technology services and outsourcing company and an SAP® services partner and an SAP gold channel partner, today announced the creation of a YASH Labs environment and portfolio of services to help organizations evaluate, understand, and benefit from their investments in the SAP HANA® platform.
Organizations are experiencing the daunting task of processing huge amounts of data and turning that data into meaningful information for effective decision-making. SAP HANA is an in-memory database platform that streamlines analytics, planning, and predictive and sentiment assessments to allow business to operate in real time. It makes it possible to not only process enormous data volumes, but also process information in seconds, even nanoseconds, making in-memory technology a competitive game changer. Partnering with IBM, an SAP Global Technology Partner and a provider of hardware solutions certified by SAP to run SAP HANA, YASH has built a comprehensive high-performance lab to enable customers to experience first-hand the value of this advanced technology.
"Our customers understand that innovation drives competitive advantage, and SAP HANA enables a new level of IT and business transformation," said Manoj Baheti, CEO of YASH Technologies. "The YASH Labs environment for SAP HANA offers our customers the ability to test their current and future SAP applications and benchmark their performance to facilitate rapid adoption within their organization."
YASH's services offering around SAP HANA was created for midsize and large global organizations that are looking for lasting competitive advantage. With YASH's deep experience around SAP applications and data management, the services portfolio around SAP HANA was a logical addition.
YASH's services offered in support of SAP HANA include:

Business Strategy and Roadmap Creation - Working with a YASH team of experts through a series of workshops, YASH can help identify business cases, an implementation roadmap, and risks and benefits.
Proof of Concept – This two-phase approach allows organizations to first see how SAP HANA works via general business-process scenarios. The second phase provides a more customized approach using the customer's own data.
Implementation - Leveraging accelerators, YASH provides an efficient approach to implementing SAP HANA and applicable components. Migration or upgrade services are also offered to move traditional components to those enabled by SAP HANA.
Learning and Change Management – Training and change management workshops are critical to speeding adoption throughout the organization. YASH can help develop a rollout program that incorporates change management procedures.
"We are partnering with customers to help them revolutionize the way data impacts their organizations," comments Bala Navuluri, COO, YASH Technologies. "Every decision begins with data, and SAP HANA is making it possible to store, process, and analyze that data at extreme speeds, all via a single-source solution. This is true, real-time-insight amplified by a factor of 10,000."
YASH is a 2012 SAP Pinnacle award recipient, a recipient of the SAP APJ Partner Excellence award 2013: Top Partner for SAP Business All-in-One, and is also a member of SAP's 2013 North American Value Added Reseller Partner Advisory Council. With its extensive experience in providing services and solutions around SAP technology, YASH's services portfolio around SAP HANA will help customers achieve long-term benefits.
Visit YASH Technologies at the SAPPHIRE® NOW conference in Orlando, Fla., May 14 -16, 2013 to find out more.
About YASH Technologies
YASH Technologies focuses on customer success. As a leading technology services and outsourcing partner for global customers, we leverage technology and our flexible delivery models to drive performance and business value throughout a customer's enterprise. YASH's comprehensive service approach incorporates a holistic view of our customers that extends beyond delivery. This approach integrates enterprise solutions and services, proprietary best practice offerings, strategic application and maintenance outsourcing, as well as consulting and integration services. YASH is a SEI CMMI (Level 3) and an ISO 9001:2008 certified company with U.S. and India headquarters and regional sales and development offices spread across five continents.
SAP, SAP HANA, SAPPHIRE and all SAP logos are trademarks or registered trademarks of SAP AG in Germany and in several other countries all over the world. All other product and service names mentioned are the trademarks of their respective companies.