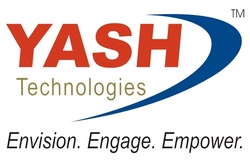 YASH created Core AMS to better meet the needs of Small-to-Medium Enterprise customers looking to reduce costs of managing their SAP landscape.
East Moline, IL (PRWEB) November 19, 2009
YASH Technologies, a leading enterprise business and technology partner for global companies, has extended its Application Management Services (AMS) program with a bundled foundational set of services called Core AMS. Core AMS incorporates the most common support services utilized by YASH customers and the recent full adoption of the Run SAP methodology.
As a longstanding and successful AMS provider for large enterprises, YASH created Core AMS to better meet the needs of Small-to-Medium Enterprise (SME) customers looking to reduce the cost and complexity of managing their SAP system landscape. The bundled set of services was designed as foundational support with a "keep-the-lights-on" approach allowing SMEs a cost effective solution to compete more effectively, improve service quality, and generate measurable savings.
SMEs must often compete with larger enterprises that have the advantage of financial, technical, and personnel resources. YASH's Core AMS provides comprehensive support at a fixed, predictable cost and includes:

First and second level support for business users with SLA-based issue resolution
Ongoing maintenance
Support for continuous improvement
Software patches for installed SAP software
Hosting options available for Small and Medium Enterprises (SMEs).
Many of YASH's enterprise clients have created customized programs to support their SAP landscapes. To give SME clients the same competitive advantage, YASH extended their AMS program to also include Optional Services, that can be customized to each organization's size and business requirements. Both offerings are designed to reduce the Total Cost of Ownership, free up internal resources, and boost IT service quality for improved business performance.
YASH delivers these service components through an effective adaptation of Run SAP—SAP's recommended Best Practices and methodology framework. YASH brings predictable value leveraging best-in-class procedures, processes, templates, and reporting mechanisms to build a strong foundation for comprehensive solution management.
"Regardless of size or industry, YASH's Core AMS program alleviates strain from regulatory compliance, global standardization, and recruiting and retaining resources," said Abe Iruegas, Vice President, SAP Solutions for YASH Technologies. "Customers are provided the freedom to streamline business processes, and focus on mission-critical objectives, where it matters most. YASH AMS will support business users and the entire lifecycle of an SAP environment from planning, implementing, operating, optimizing, and extending your application landscape."
For more information, please visit http://www.yash.com/sap.
About YASH Technologies:
YASH Technologies focuses on customer success. As a leading enterprise business and technology partner for medium and large global customers, we leverage technology and our flexible delivery models to drive performance and business value throughout a customer's enterprise. YASH's comprehensive service approach incorporates a holistic view of our customers that extends beyond delivery. This approach integrates enterprise solutions and services, proprietary best practice offerings, strategic application and maintenance outsourcing, as well as consulting and integration services. YASH is a SEI CMMI (Level 3) and an ISO 9001:2000 certified company with US and India headquarters and regional sales and development offices spread across 3 continents. For more information, please visit http://www.yash.com or email info (at) yash.com.
# # #