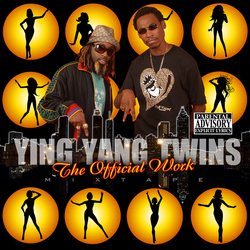 We are keeping it one hundred, we are loyal to our fans, they understand us and stand behind the quality and production of our music, we keep it real with everyone, we're crunk for life just like a Christian is crunk for Christ. We're fixin' to do this real big and for those that don't know, this is a mix compact disc not a mixtape
Houston, TX (PRWEB) August 26, 2008
The Ying Yang Twins are not allowing the demise of TVT Records to interfere with the release of their scheduled album that has been highly anticipated by the recording industry, their fans and strip clubs alike all year long. Instead, the crunk style pros, unperturbed by the woes of their long term record label TVT, continue to represent A-Town and are confident in the incredible loyalty shown by their strong fan base and main stream appeal that they have decided to take the independent route of distribution and have decided to drop their first official mixtape, "The Official Work" which will hit store shelves on Tuesday August 26th 2008.
Unlike other major recording artists who hit the mixtape scene with a vengeance, the YYT's are taking the mixtape game to a whole other level, by supporting their mixtape like no other artist. Unlike their counterparts, such as UMG recording artists Lil' Wayne or Ludacris, who have monopolized the mixtape market to garner lucrative marketing, advertising placement and sales for their major label releases, the Ying Yang Twins have not hijacked producers beats and have additionally taken the unprecedented step to release videos, and two different versions of "The Official Work" one for retail stores and one for digital distribution that contains exclusive remixes and host in-store appearances to promote the album, all of which continue to reinforce their solid commitment to their music whether it be on a mixtape or on a major label album release.
The first single from "The Official Work" "Look Back at It", has been well received by radio and is garnering airplay nationwide. The first video is for Swag, a strip club joint that the twins have become renown, for making. Whilst filming for the video Swag, during a break the models started dancing to another cut from the album, "Juaah" whilst the cameras were still rolling, so with a lot of extra footage, a bonus video just for the fans evolved. The videos are available to be viewed on youtube.com.
Ying Yang Twins, Swag Video, The Official Work
Ying Yang Twins, Juaah Video, The Official Work
Speaking with the extremely humble and down to earth twins, D-Roc and Kaine, it becomes apparent why these talented young men have longevity in a business where a month can seem like a long time; "We are keeping it one hundred, we are loyal to our fans, they understand us and stand behind the quality and production of our music, we keep it real with everyone, we're crunk for life just like a Christian is crunk for Christ. We're fixin' to do this real big and for those that don't know, this is a mix compact disc not a mixtape", states the charismatic Kane, with D-Roc shoulder side affirming the statement with his trademark scream "HAH" holding up "The Official Work" an album their obviously both proud of.
For The Ying Yang Twins, D-Roc (Ying) and Kaine (Yang), "The Official Work" affirms their reputation as the kings of Strip Club Anthems. For those fans who couldn't get enough of the super-salacious underground hit "Wait (The Whisper Song)," you won't be disappointed as The Twins continue the tradition, with this long awaited album that is laced with equally impressive hedonistic songs, that are outrageously addictive and furthermore boasts a surprisingly broad, rich emotional palette, flaunting a new level of maturity by the duo.
If the excitement, generated by pre-orders from retail buyers is any indication of how well this album is going to sell, then you should secure your copy early as it would be a safe bet that "The Official Work" is going to be the defining moment of their entire career and will fly off the shelves, as supply is currently outweighed by the demand for this hot commodity. The album will be available to purchase in stores at major retailers FYE-(TWMC) Best Buy - (BBY), Target - (TGT), Hastings - (HAST), Circuit City - (CC) and online for digital download via Itunes, Amazon (AMZN) and many more on Tuesday August 26th 2008.
###