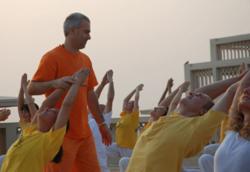 The Sivananda Yoga Vedanta Centers offers worldwide Teacher Training Courses
San Francisco, CA (PRWEB) July 05, 2012
We are living in a time of transition. Many people are asking, "What is happening to the world?" Yoga philosophy and practice gives many answers to the perennial questions of existence but also helps us to raise our consciousness and maintain stability and positivity in an unsettled, unhealthy and conflict filled environment. If you can't find the time for a full blown "Yoga Vacation", let yoga come to you. In her West Coast Tour, Swami Sitaramananda, director of the Sivananda Ashram Yoga Farm, will present some insights into the wisdom of classical Yoga philosophy in her inspiring lectures, as well as lead workshops, yoga classes and chanting for World Peace in seven cities this summer.
Swami Sita is a personable, dynamic speaker and is director of the Sivananda Ashram Yoga Farm in Grass Valley, California. The Yoga Farm was opened in 1971 by her teacher, Swami Vishnudevananda. She works tirelessly to carry on his vision of the "TRUE WORLD ORDER", which looks to train future leaders who will bring peace and light from within to a world that has become so focused on external happiness. She has taught worldwide, trained over 1,500 yoga teachers in California, and started Yoga Teacher Training Courses in Vietnam and Taiwan. The Yoga Farm hosts guests from all over the world in courses such as Beginner's Yoga, Positive Thinking, Meditation and Simple Living.
The International Sivananda Yoga Vedanta Center is a non-profit organization named after Swami Sivananda, one of the most influential spiritual teachers of the 20th century. This worldwide, volunteer-based organization was founded by his disciple Swami Vishnudevananda, who was one of the first to bring Yoga to the West in 1957. Swami Vishnudevananda's mission was simple: Peace for all of humanity. He is best known for starting the Sivananda Yoga Teacher's Training Course, which has trained 30,000 Yoga Teachers worldwide and for his peace missions as the "Flying Swami". He flew over war-torn places such as Egypt's Suez Canal and the Berlin Wall in the 1980's, not only "bombarding" these troubled areas with flowers and peace pamphlets, but also creating discussion and awareness in the news media.
Swami Sita will be available for Radio and TV appearances and can also be scheduled to interview over the phone or Skype leading up to the tour. Please contact Anandi or Mahakaanta for further tour information, pictures and/or video of Swami Sita or Swami Vishnudevananda, "The Flying Swami."
The West Coast Tour Schedule is as follows:
July 15-16 MOUNT SHASTA, CA
July 18-20 SAN FRANCISCO, CA
July 21-22 SAN DIEGO, CA
July 23-24 PORTLAND, OR
July 25-26 SEATTLE, WA
July 27-28-29 LOS ANGELES, CA
July 30-31 CHICAGO, IL
Tour details can be found at sivanandayogafarm.org/swamisitatour or calling (530) 272-9322