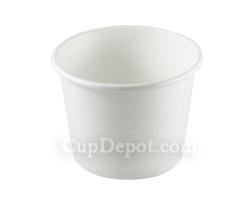 City of Industry, CA (Vocus) November 1, 2010 –
CupDepot.com, a leading manufacturer of quality food retail supplies and yogurt paper cups, introduces its new budget-friendly offers for large orders. For purchases over $500 or more, customers can enter the promo code 2FREE500 and receive 2 free cases of CupDepot.com's top-grade Multifold Paper Towels, which are perfect for any restaurant, café, or yogurt store. Other offers include discounts for select multi-case purchases.
CupDepot.com is offering a Multi-Case Discount to its valued customers. The Multi-Case Discount will also apply to purchases on paper hot cups, paper cold/ hot food containers, and on Karat® Earth Eco-Friendly Paper Hot Cups.
CupDepot.com's cold/ hot paper food container is perfect for café or restaurant use. Designed specifically for use with hot or cold foods, its premium quality double poly lining prevents leaking and adds resilience. These paper food containers are great for ice cream, yogurt, gelato, noodles, and salad.
The compostable Karat® Earth eco-friendly paper hot cup is made of renewable resources, and ideal for green living and hot beverages. Widely used for coffee and tea beverages and available in white or stock print designs, Karat® Earth paper hot cups are ideal for all types of restaurants and cafés.
The MultiCase Discount is also active for purchases on coffee cup jackets. These premium Karat Paper Cup Jackets feature a tulip design that tightly hugs any regular sized paper coffee cup. Made with 100% Recycled Paper, the cup sleeves are environmentally friendly and perfect for both restaurants and cafés.
Replenish on paper supplies and save big this month on paper hot cups, paper hot food container and cup jackets with CupDepot.com's big Multi-Case Discount. Take advantage of these hot discounts while the offer lasts.
All of CupDepot.com's paper products are made from quality materials and are designed to be resilient. Known for its speedy delivery and excellent customer service, CupDepot.com, is a manufacturer and supply wholesaler specializing in yogurt paper cups and plastic cups, as well as in other restaurant supplies. Stock-up on CupDepot.com's affordably priced yogurt paper cups, plastic cups, and line of eco-friendly products for home or business use. Furthermore, CupDepot.com ships purchases of plastic cups and all other purchases for free within the 48 continental United States.
To find out more about online discounts and other products, simply log into CupDepot.com and join the mailing list.
About CupDepot.com
Cupdepot.com is based in City of Industry, CA, and is the manufacturer of Karat® and Karat® Earth paper and plastic products. CupDepot.com is a subsidiary of Lollicup® USA, Inc. and offers customers affordable premium plastic and paper cups, yogurt paper cups, utensils, containers, straws, coffee cup jackets, and other beverage handling supplies. Also headquartered in the City of Industry, Lollicup® is known for its retailing bubble tea drink stores under the Lollicup® Coffee and Tea name. It is also well known for its Lollicup® Tea Zone brand line-up of coffee syrups and more. Press release produced by Cybertegic.com – an Internet marketing services agency that specializes in search engine optimized press release marketing (SEO Marketing).
###