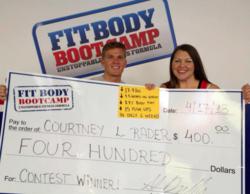 Even though I didn't think I would win, I still told myself that I was going to put my all in it, and I am so incredibly happy that it paid off!"
Yorba Linda, CA (PRWEB) May 01, 2013
When local fitness expert and Yorba Linda personal trainer, Bryce Henson, owner of the fitness boot camp business, Fit Body Boot Camp Yorba Linda, decided to host an Ambassador Contest to help motivate their members, Courtney Rader had no idea that she would end up being the winner of the $400 Grand Prize out of the 25 contestants that participated.
"I am honestly still amazed that I actually won the Ambassador Contest! I never thought in a million years that I would actually win!" says Courtney, she adds, "when my trainer Tatiana told me that I had won, I was so shocked! Even though I didn't think I would win, I still told myself that I was going to put my all in it, and I am so incredibly happy that it paid off!"
Bryce Henson, owner of Fit Body Boot Camp Yorba Linda, explains, "We decided to have an Ambassador Contest at Fit Body Boot Camp Yorba Linda because we wanted to bring a little healthy competition to our boot camp as a way to motivate and inspire our members to push themselves a little harder to achieve their goals. We had some great results so we were really happy with the whole process and very excited for Courtney and all the other contestants."
Operating for just over five months, Fit Body Boot Camp Yorba Linda, is located at 22343 La Palma Ave. #125, Yorba Linda, CA 92887 and will be celebrating it's Grand Opening on Saturday, May 11th from 11am until 2pm.
Fit Body Boot Camp Yorba Linda offers fun and supportive 30 minute workout sessions that deliver amazing results, all while providing tremendous support to those who are new to working out or exercising. The Yorba Linda personal training center is already home to over 130 members who want a fun and exciting workout experience while striving to meet their fat loss goals. With a goal of reaching 200 members by September 21st, Fit Body Boot Camp Yorba Linda is well on its way to helping more people transform their bodies, get healthy, and stay fit.
Entering in the Ambassador Contest at Fit Body Boot Camp Yorba Linda has helped the winner, Courtney, begin her body transformation. She says "This most certainly is just the beginning of my transformation! I still have over 50 pounds to lose, and the fact that I was able to lose almost 18 pounds in just 6 weeks proves to me that I CAN do it. With hard work, dedication, and two amazing instructors rooting me on the whole way, what do I have to lose? Just these extra pounds! And not only do I love the weight loss, but I love the way I feel overall. I have so much more energy and I just plain feel good."
About Fit Body Boot Camp
Fit Body Boot Camp Yorba Linda is owned and operated by Bryce Henson, who is committed to helping those in his community get healthy and get in shape. To learn more about the fitness boot camp franchise, Fit Body Boot Camp, or Fit Body Boot Camp Yorba Linda or please visit http://www.fitbodybootcamp.com/ca/yorba-linda-fitness-boot-camp/yorba-linda-personal-training.html or http://www.myfitbodybootcamp.com/fitness-boot-camp-business/