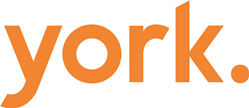 JERSEY CITY, N.J. (PRWEB) March 14, 2019
York is pleased to announce James Podesva's new role as senior vice president of Specialized Loss Adjusting (SLA), leading global business operations in the U.S., U.K., the Caribbean and South America for this line of business. Podesva brings 38 years of experience, including 15 years at York where he most recently served as vice president and senior executive adjuster for several clients and global programs.
"I'm excited to take on this new role and execute the quality initiatives that have always been at the core of our SLA business," stated Podesva. "We have an excellent team of adjusters and claim directors and I'm looking forward to helping maximize their potential to deliver results and best serve our clients."
Podesva joined York in 2003 as the SLA team's 12th adjuster, and over the last 15 years, that team has grown to more than 200 adjusters and is a strong contributor to York's overall success. York's SLA team works globally and handles complex and specialized losses—with experience adjusting individual losses in excess of $800 million.
"Jim's dedication and commitment to quality and innovation will drive our SLA team to continue its international growth and success as a leading provider," said Chairman and CEO Tom Warsop. "I'm looking forward to watching the SLA team continue to thrive under Jim's leadership and deliver the same level of quality service York is known for."
About York
For more than 55 years, York has been delivering results our clients can see and feel. As a leading risk solutions provider, we serve corporations, the insurance industry and public entities to reduce risk and drive high-quality outcomes. We do this by offering integrated and customized solutions including risk management, claims administration, managed care and absence management. With our data-driven and compassionate approach, we deliver on our mission of reducing risk and getting people and organizations back to health, work and productivity.
York is headquartered in Jersey City, New Jersey. You can learn more at yorkrisk.com.