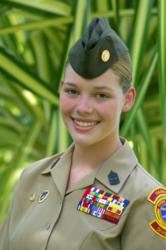 "It's humbling to be chosen for such an honor and to know I was nominated for the award," Behringer said. "I'm excited to represent my community and hopefully serve as an inspiration for other young women to work hard and give back to their communities."
Baltimore, MD (PRWEB) March 27, 2013
On Thursday, March 21, 2013, The Baltimore County Commission for Women named Young Marines SgtMaj McCall Behringer "The Young Woman of the Year" at the historic Towson Courthouse, 400 Washington Ave, Towson, MD.
It is the commission's 31st year honoring women for their outstanding contributions to the community.
The award honors a female high school senior in Baltimore County who has made significant, unique and lasting contributions in the community or school to further the interests of women and families. The honoree has acted as a role model of achievement for other women or has otherwise enhanced the lives of the citizens of Baltimore County.
"It's humbling to be chosen for such an honor and to know I was nominated for the award," Behringer said. "I'm excited to represent my community and hopefully serve as an inspiration for other young women to work hard and give back to their communities."
Behringer is 18 years old and the daughter of Nina and Michael Behringer. She is a senior at Perry Hall High School in Baltimore. She is a member of the Young Marines and was named that organization's 2012 National Young Marine of the Year.
Her history with the Young Marines is filled with honors and accolades. At the age of 10, she joined Midwest Central Young Marines in Peoria, IL. After a move to the Baltimore area in Oct., 2006, she became a member of the Hamilton Young Marines.
As part of the Young Marines, Behringer graduated as one of the top five of her Advanced Leadership School which earned her a seat at the Young Marines Symposium in 2009. She has been the Division 2 Junior Leadership Academy Young Marines First Sergeant and Young Marines Sergeant Major, and she was a staff member at the National Leadership Academy at Fort Pickett in 2010 and 2011.
She also participated in an interview with former Vice President Dick Chaney on Sirrus Radio and on Voice America TAGG program. She has traveled to Pearl Harbor, Guam and Iwo Jima representing the Young Marine program.
Behringer has received more than 121 awards since becoming a member of the Young Marines including three personal commendation awards, the Meritorious Service award issued at the national level by Mike Kessler, national director and CEO of the Young Marines.
"I want to tell you how proud I am of you for this very major accomplishment," said CEO Kessler in an email to Behringer. "To be a standout of this degree comes as no surprise, but it remains refreshing to know that we have so many talented and capable young adults in this program. Congratulations and again, well done."
In addition to her Young Marines awards, Behringer was the 2011 Baltimore nominee for the March of Dimes Youth Volunteer of the Year. She has received three high school letters, has been named to the honor role, is a student coach for Allied Soccer and is a member of the Perry Hall High School Symphonic Winds Ensemble and Marching Band for which she is a section leader.
She participates in the drama and is appearing in the spring production of "How to Succeed in Business without Really Trying." Last spring, she was the student director for "The Wiz."
Behringer is a camp counselor at the American Lung Association's Camp Super Kids. She sits on the planning boards for the Baltimore Chapter of March of Dimes and the Baltimore office of the National Kidney Foundation. She also works part-time and is a volunteer at the Hopewell Cancer Center.
"I plan to attend college and major in Communications," Behringer said. "After I complete my education, I plan to continue giving back to my community."
The Young Marines is a national non-profit 501c(3) youth education and service program for boys and girls, age eight through the completion of high school. The Young Marines promotes the mental, moral and physical development of its members. The program focuses on teaching the values of leadership, teamwork and self-discipline so its members can live and promote a healthy, drug-free lifestyle.
Since the Young Marines' humble beginnings in 1959 with one unit and a handful of boys, the organization has grown to over 300 units with 10,000 youth and 3,000 adult volunteers in 46 states, the District of Columbia, Germany, Japan and affiliates in a host of other countries.
For more information, visit the official website at: http://www.YoungMarines.com/.