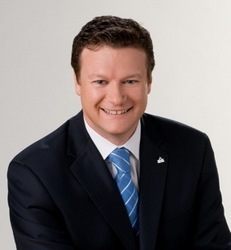 Robert has been a strong advocate for the organization, positioning YPO for the next generation of young business leaders.
(Vocus) November 19, 2010
Young Presidents' Organization (YPO) today announced the election of its international chairman for 2011-2012, Robert A. Frances of the YPO Quebec Chapter.
A YPO member since 2000, Frances is the president and CEO of Montreal-based PEAK Financial Group, one of the largest independent financial services companies in Canada, serving more than 1,000 financial advisers and 135,000 investors throughout Canada. He founded the business -- recognized for six consecutive years by Profit 100 as one of Canada's fastest-growing companies -- as a 27-year-old entrepreneur.
Frances brings to the organization's top position a decade of leadership experience as a member and champion at the chapter, regional and international levels.
"Robert is one of YPO's most passionate and effective champions," said 2010-2011 International Chairman Jill Belconis. "His leadership has been instrumental to the growth of our flagship annual event, the Global Leadership Summit, shaping the Summit as an influential gathering of thought leaders. He has also been a strong advocate for the organization, positioning YPO for the next generation of young business leaders."
Frances presently serves as the chair of YPO's International Education Committee and leads the Global Leadership Conference Supervisory Committee, where he guides the strategic direction of YPO's global education programs serving more than 17,000 members and their families. He has also held numerous leadership positions in the YPO Quebec Chapter and in the YPO Canada Region.
Additionally, Frances has showcased his leadership in the classroom as a lecturer in finance and financial planning at Montreal's Concordia University, where he served as chair of the university's John Molson School of Business Advisory Board. He is the past chair of the Investment Funds Institute of Canada (IFIC) Board of Directors and co-founder of the Investment Funds Institute of Quebec.
About YPO
YPO (Young Presidents' Organization) is a not-for-profit, global network of young chief executives connected around the shared mission of becoming Better Leaders Through Education and Idea Exchange™. Founded in 1950, YPO today provides 17,000 peers and their families in more than 100 countries with access to unique experiences, world-class resources, alliances with top learning institutions, and specialized Networks that help them enhance their business, community and personal leadership. For more information, visit http://www.ypo.org . Also see us on http://www.facebook.com/pages/YPO-Young-Presidents-Organization-Official-Public-Page/263560908348?ref=search&sid=616117795.3237268856..1 [Facebook] and follow us on Twitter.
###