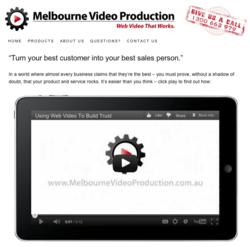 Viewers are rewarding those businesses who produce something of quality
Melbourne, Victoria (PRWEB) February 13, 2013
On January 30th 2013, YouTube's blog revealed their plans to partner up with Adweek.com to create voting capability for their online channel called Adblitz. The channel will enable viewers to watch and vote for their favourite Superbowl ad "creating a frenzy around the famous American football event's already popular advertising," says online video expert and owner of Melbourne Video Production David Jenyns. He also says having YouTube "ask viewers to vote up the best ad is absolutely brilliant, this new type of online marketing interaction has truly changed advertising forever."
As the face of technology has changed over recent years, so has the way people entertain themselves. Online consumers don't just expect their entertainment content to be intelligent, witty and engaging, they want their advertising to be that way, too. Video production Melbourne-based expert David says, "There once was a day when people detested watching ads, but now they've become highlights. As for Adblitz, the ads are the sole purpose for its existence."
YouTube knows the viral capability of a good online advertisement, so it was logical for them to team up with Adweek.com to make their ad channel Adblitz voting enabled. David says adding voting to the channel compliments viewer trends, "people love sharing a good video, be it a commercial, trailer or anything else, if they like it, they'll let you know...and hopefully spread it."
With just over 3 days left to vote for the best Superbowl ad, the Adblitz channel proudly boasts nearly 2 million video views. "Once logged into their YouTube accounts, viewers just click the thumbs up or thumbs down icons to vote" says David. "It's so easy for the end user, and has unbelievable benefits for the advertisers."
Other than just bolstering advertising reach, David says the outcomes from Adblitz can also help businesses learn what their viewers want and don't want. "By seeing how they fare in the voting, they'll know if they're headed in the right direction for today's marketplace. What's more, it's instant market research so businesses can adjust quickly."
The online video production expert also says this type of advertising mania isn't restricted to just large companies with deep pockets for Superbowl ad space. "Any business, and I mean absolutely any business, can create a great web video and replicate all these instant benefits."
David remarks, "Seeing the high level of interaction YouTube is engaging in with their viewers is a strong signpost to where things are headed: fun, interactive videos with instant feedback. Businesses of all types and sizes need to jump on the online video production wagon today."
He also says that since "YouTube's Adblitz channel has been a great success, they're forcing companies to really think about what their consumers want, and the viewers are rewarding those businesses who produce something of quality."
"Just get started, I don't care if you record a basic testimonial using your smartphone and then upload it to YouTube. Just do it" exclaims David. The marketing expert's company Melbourne Video Production has a wide range of options available for those wanting to try web video marketing.
Whether businesses are after basic services such as 'dry' studio hire, or require their full packaged service, which includes scripting, editing, production and online optimization for the video, his company offers something for every marketing budget.
David closes by mentioning that advertising has "changed forever because companies like those on YouTube's Adblitz are competing as best web video ad, so it's no longer just about presenting a product or service. I think the way we advertise in the future is about to get a lot more interesting."
To learn more about David's Melbourne Video Production hire products and professional web video packages, visit: http://www.melbournevideoproduction.com.au
About Melbourne Video Production
Melbourne Video Production is a division of MelbourneSEOServices.com, a full service search engine optimization (SEO) consultancy, based in Australia, but with a worldwide client base.
Melbourne Video Production has the unique ability to combine their web video expertise with strategic SEO practices from Melbourne SEO.
Director, David Jenyns, has, over several years, built a team of experts who are niche experts to support the business, and who share his ethos for ethical, professional internet marketing and web video.
More about David Jenyns at http://www.melbourneseoservices.com/seo-experts