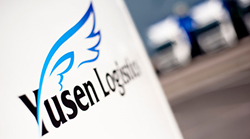 SECAUCUS, N.J. (PRWEB) October 08, 2018
Yusen Logistics Americas (YLA) has announced that the terms of a transactional agreement relative to the sale of its Intermodal Marketing Company/Over the Road Highway Freight Brokerage group, have been reached with Transplace's intermodal division. This strategic move forward is complimentary with the overall Transform 2025 initiative most recently announced in mid-2017, which is focused on creating deeper ties with customers and improving the already strong operating efficiencies of the organization. "This next step allows Yusen Logistics Americas a greater strategic alignment of our business portfolio to increase positive synergy around our services, by committing business focus, service quality and organizational resources on our core product offerings," stated Kyosuke Noguchi, Senior Vice President & General Manager, Transportation Group – Yusen Logistics Americas.
While terms of the agreement have not been fully released, it is expected that a period of transition will follow in the next few weeks, as Transplace works to leverage the integration into an already robust service and technology operation. From a YLA perspective this step helps to solidify an operating network that provides specialization in key logistics products to include, International Freight Forwarding, Integrated Solutions (Customized Logistics) and Contract Logistics services, along with transportation solutions all while providing complete and seamless US wide coverage. Raymond James & Associates, Inc. was the financial advisor to YLA.
About Yusen Logistics
Yusen Logistics is a supply chain logistics company. We offer global services in freight forwarding, warehousing, transportation, distribution services, contract logistics and supply chain management in one package. We provide solutions which range from stand-alone operations to control-tower managed global supply chain, combining our expertise and insights with unique technology capabilities and our global service network.
Yusen Logistics has a global presence in over 550 bases in 44 countries and regions, with a warehousing footprint of over 2.65 million sqm spanning five strategic areas namely Japan, Europe, the Americas, East Asia and South Asia & Oceania.