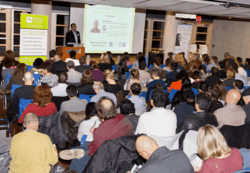 Donate & Learn Workshops are a unique opportunity to network, and meet some of the leading experts in Social Media and Online Marketing, and support a great cause!
Toronto, Ontario (PRWEB) March 26, 2013
The YWCA and Green Lotus present the Donate & Learn - Search & Social Media Marketing Workshop on May 28, 2013 at 6pm at the YWCA Toronto headquarters (downtown Toronto).
Search engines and social media platforms are the primary sources of awareness, engagement and conversions for many businesses and corporations.
Over the past few years these two different mechanisms have become intermingled as search engines increasingly leverage data provided by users on social networks, and social media websites are integrating search engine functionality.
Learn how to leverage both search and social for your business, and support a great cause!
Workshop Speakers:
John Shehata, Executive Director of Search & Social Media at ABC News
Sally Chung, Account Marketing at Google Canada.
Bassem Ghali, Founder & Head of Client Strategy at Green Lotus
Sign up now and stay tuned for YWCA Donate & Learn Search & Social Media Marketing Workshop updates.
100% of donations will go towards the YWCA Girls' Centre - providing young women with a meeting place of their own to discuss issues and concerns such as online bullying, healthy relationships, and self-esteem. The Girls' Centre is a judgement free and supportive environment for young women to start building their futures.
The first YWCA Donate & Learn Social Media Workshop on Dec 4, 2012 was a success with over 220 people in attendance in support of the YWCA Adopt-a-Family Program. Watch the Donate & Learn case study video.
"What Green Lotus managed to put together in such a short amount of time for the first Donate & Learn Workshop was remarkable … Not only is the event a great fundraiser, but it's a great place for professionals to network and learn. It also connected the YWCA Toronto to a whole new sector (technology) that we've previously not reached out to."
-Shana Hillman, YWCA Toronto's Manager of Events, Stewardship and Volunteers.
Origins of Donate & Learn Workshops:
The Donate & Learn Workshop is an initiative created by Green Lotus (Toronto Search Engine Optimization & Online Marketing Agency) to support Toronto's local non-profit organizations/charities, and provide informative workshops for small/medium businesses, and media specialists with a focus on social media, online marketing strategies, and the tools needed to achieve online marketing goals.
"The Donate & Learn concept is such a simple idea, you donate - and you learn. There are a lot of conferences and online marketing seminars out there, and they are all great, but almost all of them are done for profit… My vision is for this workshop to be a large fundraising event in Toronto, and also be one of the most informative workshops for online marketing."
-Bassem Ghali, Founder of the Donate & Learn Workshop
YWCA Donate & Learn - Search & Social Media Marketing Workshop: http://greenlotus.ca/learn-donate-workshop