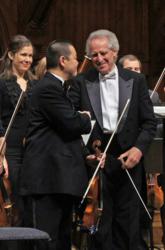 The power of a positive thought can affect your work and infect others.
Dallas, TX (PRWEB) January 01, 2013
Carlton's Training Solutions has pulled off a great feat, capturing the lightning in a bottle of energy, namely Ben Zander. Zander has been motivating and captivating his pupils, his orchestra and now he has the business world spellbound as well. Ben Zander is in two great programs on leadership training in the Carlton's Training Solutions library.
Think about what a manager does. What do they do? They have a list of tasks to give employees and the employees carry it out. Then why the need for a manager? What do managers do? Managers always ask the question why employees can't just do what they are supposed to do and asked to do. But then what would a manager's job be? The boss could just give the instructions to the people. The manager's job rests in the execution of those plans. So if they aren't doing what the manager wants? That's right, it's their fault. A manager's job is to awaken possibility in other people.
Leadership: An Art of Possibility captures this possibility that Zander speaks of so frequently. In this program the reactions of the people he touches are demonstrated and how he does it. His actions and energy are contagious. And once studied managers realize that they too are swept up in it and can use the powerful tools to influence their own people. "The power of a positive thought can affect your work and infect others," says Zander.
Attitude: Radiating Possibility discusses how each person chooses their attitude. The actions of the world may not always be in grasp to change. But how people select how to react and respond to a crisis and others are their choice. This powerful message is delivered in a fun, enthusiastic environment at which Ben is the center.
Carlton's Training Solutions provides education in areas such as management courses, what is communication, what is diversity, discrimination, innovation, employment hiring, leadership training, what is employment law, human resource management, performance appraisal, performance management training, sexual harassment training, substance abuse, customer service videos, and workplace violence.
Carlton's Training Solutions clients use the Ben Zander videos for their management courses for the motivation they bring. They have found other leading business experts and world famous personalities to star in their programs such as Dewitt Jones, Catherine Crier, Bob Farrell, Tom Peters, John Cleese, Morris Massey, Joel Barker, Ken Blanchard, Stephen Covey, and Lou Holtz. To view other topics on corporate training or learn more about Carlton's Training Solutions click here at their site http://carltonstraining.com/. Carlton's Training Solutions has shown how the Ben Zander corporate videos examine management and inspire leaders all over the world.