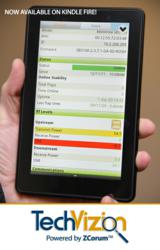 The Kindle Fire is on fire this holiday season. We wanted to make sure we had TechVizion available on the Kindle Fire platform to meet expected demand.
Alpharetta, GA (PRWEB) December 29, 2011
ZCorum announced today that TechVizion, its mobile app for cable modem diagnostics, is now available for use on Amazon's inexpensive Kindle Fire tablet. TechVizion, in conjunction with its parent application TruVizion, is the company's diagnostic software used to track down and analyze issues within cable modem and VoIP networks. TechVizion is already available on Android-based smartphones and tablets, as well as the iPhone and iPad.
At $199, Amazon's new tablet has come in at a price point that's generating a lot of excitement--and sales--as it was Amazon's best seller the week before Christmas. "The Kindle Fire is on fire this holiday season," said Arthur Skinner, ZCorum's Vice President of Business Development & Sales. "We wanted to make sure we had TechVizion available on the Amazon mobile platform to meet that demand."
Use of the TechVizion app on the Apple and Android platforms has already been met with positive reviews. "We've had customers tell us that TechVizion has been extremely helpful, especially at times where techs are in the field without access to a PC or laptop", said Neal Grillot, Vice President of Operations. "They love the ability to pull up TechVizion on their mobile devices from any location, without the need to be in the office to view and analyze diagnostic data. They're also thrilled to have the Kindle Fire platform as another option for running TechVizion."
About ZCorum
ZCorum provides broadband Internet and communication solutions to telcos, cable companies, utilities, and municipalities, assisting in all facets of broadband implementation, integration, engineering and consulting, network monitoring and diagnostics. ZCorum also offers wholesale, private-labeled Internet services, including data and VoIP provisioning, email, Web hosting, and 24x7 support for end-users, enabling service providers to compete effectively in their local rural and suburban markets. ZCorum is headquartered in Alpharetta, GA. For more information, please visit http://www.ZCorum.com.
# # #