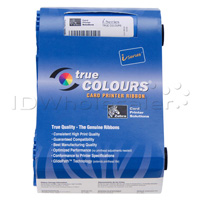 Chanhassen, MN (PRWEB) March 14, 2013
Zebra Technologies Corporation, a leading manufacturer of desktop ID card printers, recently released easier-to-use, eco-friendly ribbons for their P100i, P110i, and P120i Zebra ID card printers. These ribbons are now available at ID Wholesaler, the leading photo identification products retailer.
The new Zebra ribbons offer two primary benefits. For one, they are eco-friendly. The new ribbon biodegrades at a faster rate (nine months to five years) in soil, water, compost, or when in continual contact with microorganisms. The new ribbon cartridge design also uses less plastic and is recyclable.
Secondly, the new ribbons are simple to use. The new open design makes it easier to:

Install and remove the ribbon from the printer
Change the cleaning roller
Remove the ribbon rolls from the cartridge for proper disposal of ribbons that contain sensitive data
Repair accidental tears in the ribbon
Identify the ribbon type
To learn more about the old ribbon part numbers and the corresponding new ribbon part numbers, visit ID Wholesaler's Zebra Eco-Friendly Ribbons page or talk to an ID Professional at (800) 321-4405.
About ID Wholesaler
ID Wholesaler is the largest online retailer of photo identification products, serving its clients with guaranteed lowest prices, expert advice, and free support on everything they sell. ID Wholesaler stocks a broad selection of ID card printers and systems, software, supplies, and badge accessories from the leading manufacturers. For more information, visit http://www.IDWholesaler.com.