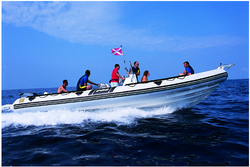 Our concern over RIBs sold through the liquidators is that damage may have occurred during the transition from Boaters World to the liquidators
Annapolis, MD (PRWEB) April 4, 2009
Zodiac of North America, Inc., the world's leading manufacturer of inflatable boats and rigid-hull inflatable boats (RIBs), announced its warranty policy for all Zodiac products bought by a consumer through a Boaters World liquidator. Zodiac will warrant all boxed boats, which are inflatable models, as though purchased through a normal dealer. Zodiac RIBs sold through liquidators do not come with a warranty, but if the customer takes the RIB to an authorized Zodiac dealer for a safety and pre-delivery inspection, then they can purchase the warranty from the dealer.
"Our concern over RIBs sold through the liquidators is that damage may have occurred during the transition from Boaters World to the liquidators," Durnan commented. "A safety inspection from an authorized dealer is essential to the safety of the buyers and the safe operation of our boats. Since these boats are sold without their warranties, we've developed a special cost-effective program to allow these customers to have their RIBs inspected and purchase a five-year factory warranty from the dealer."
Buyers of Zodiac RIBs will need to visit http://www.zodiacmarineusa.com to locate their nearest dealer, then make an appointment with the dealer for a safety inspection. The cost of the inspection will be the responsibility of the customer, as will the cost of any deficiencies necessary to correct to ensure the safe operation of the boat. The five-year factory warranty is available for one thousand dollars.
"Once the product moves from Boaters World to the liquidator, lots of things can happen to the rigging beyond our knowledge and control. Buyers can get a great deal by buying their boat this way, but we need them to get the inspection for their own safety and encourage them to purchase our warranty, Durnan concluded."
About Zodiac of North America, Inc.
Zodiac of North America Inc. is the wholly-ownedsubsidiary of Zodiac Marine and Pool, a Carlyle Group portfolio company. Zodiac is the inventor and world-leading manufacturer of inflatable boats and RIBs, with headquarters in Stevensville, MD and a U.S. factory in Summerville, SC. Zodiac is the only manufacturer to offer service certification for dealers, a global network of service centers, and a robust North American network of dealers.
###