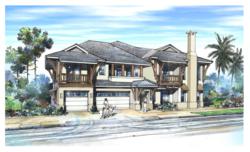 With projected favorable employment growth for Palm Beach County, and the influx of emerging employment hubs, housing demand in the area continues to strengthen.
Fort Lauderdale, Florida (PRWEB) August 16, 2012
Hamptons PBG, L.P., a joint venture of ZOM Florida and Northwestern Mutual, recently commenced construction on a 224-unit luxury apartment rental community in Palm Beach County Florida. Current Builders has been selected as the general contractor. Offering the most expansive and cutting edge amenity package in the market, The Hamptons at Palm Beach Gardens is expected to be completed by December 2013, with leasing starting in Spring 2013. Located just minutes from the new Scripps Research Institute and the Jupiter campus of Florida Atlantic University, this new development is ideally situated to take advantage of the growing multifamily rental market in Palm Beach County.
The 22.7 acre site provides an ideal low density setting for 25 two-story buildings and two three-story buildings in a neighborhood setting. The project is modeled after ZOM's successful "Hamptons" and "Arbors" style products. With a tailored mix of each, the Hamptons will be housed in the two-story format, with only six apartment homes per building, and will look and function similar to a single-family home, with dedicated ground floor entryways and direct access garages. The Arbors units are designed in a three-story format, with breezeway access garages. The more traditionally sized one- and two-bedroom Arbors units will have superior view orientations of the lake. The project will also feature a luxurious clubhouse with resort style pool, fitness center, e-lounge, and pet salon. All highlighted by a central 2.5 acre lake with walking trail, as well as a perimeter nature preserve. ZRS Management, LLC has been retained to provide property management services for the project.
"We believe this new project, our twenty-third multifamily project in Florida, has the right combination of attributes to provide reliable project cash flow during operations and above average total investment returns," said Kyle Clayton, ZOM Florida's Development Vice President. "Coupled with favorable employment growth for Palm Beach County, and emerging employment hubs near the site, housing demand in the area continues to strengthen."
"We believe this unique, high-finish product will be in high demand in the north Palm Beach market, and that Northwestern Mutual's policyowners will benefit from the long-term value we are creating in our venture with the ZOM group," said Felix Figueroa, Director for Northwestern Mutual Real Estate Investments.
ZOM is one of the most highly regarded luxury multifamily developers in the United States, and has joint ventured or directly developed over 11,000 apartment units nationwide, with an aggregate value in excess of $1.5 billion. Throughout its 30 year history, ZOM has garnered more than 100 industry awards including recognition for project design and development expertise. ZOM was awarded the highly coveted Pillars of the Industry award by the National Association of Homebuilders for developing the "Best Garden Apartment Community" in 2010. ZOM is headquartered in Orlando and has regional development offices in Fort Lauderdale, Dallas, and Washington D.C. For more information on ZOM's multifamily portfolio, visit http://www.zomusa.com.
Northwestern Mutual has helped clients achieve financial security for more than 150 years. As a mutual company with over $1 trillion of life insurance protection in force, Northwestern Mutual seeks to share its gains with policyowners and deliver consistent and dependable value to clients over time. Northwestern Mutual is one of the largest real estate investors in the nation, with investments in commercial mortgages, equities and securitized investments across all major property types, and with real estate professionals providing origination, underwriting, and service in regional offices across the country. Please visit http://www.northwesternmutualrealestate.com for more information about Northwestern Mutual's real estate investing.