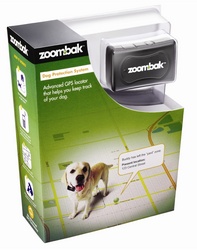 Zoombak is the ultimate peace-of-mind device for dog owners, providing awareness of where their 'furry children' are anytime, anywhere - online, on mobile phones and on demand
SAN DIEGO (PRWEB) February 14, 2008
According to the American Animal Hospital Association, roughly 30% of pet owners will lose a pet in their lifetime. Pet loss is a key factor contributing to the nearly 8 million pets that arrive at shelters each year (Humane Society of the United States estimate). While passive solutions such as dog tags are an important first step, locating a lost or stolen pet requires an active approach to recovery.
Zoombak puts the location power of advanced GPS into the hands of dog owners. It features a compact design, easy-to-use interactive website, multiple location features, and an affordable price of $199. With Zoombak's interactive website, users set up custom safety zones around virtually any location such as a home or a park. Once attached to a dog's collar, should the dog cross any of the virtual boundaries, owners will receive text message and/or emails alerting them to the location of the dog, making finding a missing dog simple. Consumers can also log in to Zoombak.com and locate their dog on-demand anytime or find a dog's location remotely by sending a text message from their mobile phone (coming soon). In addition, Zoombak can even continuously track their dog every 5 minutes for up to one hour. Live 24x7 customer care location support is also available to help dog owners quickly and accurately locate their beloved pet.
"No one ever thinks their dog will get lost, but it happens every day to countless pets and families. New technologies that allow pet owners to find their lost dog regardless of whether he or she happens upon a Good Samaritan bode well for making sure all pets who become separated from their families find their way back where they belong," said Stephanie Shain, Director of Companion Animal Outreach for The Humane Society of the United States.
"Zoombak is the ultimate peace-of-mind device for dog owners, providing awareness of where their 'furry children' are anytime, anywhere - online, on mobile phones and on demand," said Simon Buckingham, CEO at Zoombak. "All too often, family pets are lost leaving owners heartbroken and dogs in harms way, but with Zoombak, dog owners now have a solution that can dramatically increase the likelihood of finding their lost dog quickly."
Marking its commitment to maintaining the life-long connection between families and their pets, Zoombak has partnered with The Humane Society of the United States to promote responsible pet ownership. As part of its support, 36 prize winners in the Humane Society's related pet photo contest will receive a free Zoombak Advanced GPS Dog locator. "Zoombak is proud to be an official sponsor of this important initiative and is committed to doing its part to keep families and pets together," Buckingham added.
Stephanie Shain continued, "We thank Zoombak for supporting responsible pet ownership and for their efforts to maintain the bond between people and their pets." More information is available at: http://www.hsus.org/pets/issues_affecting_our_pets/pet_overpopulation_ and_ownership_statistics. (Due to its length, this URL may need to be copied/pasted into your Internet browser's address field. Remove the extra space if one exists.)
Zoombak Advanced GPS Dog Locator (http://www.zoombak.com/products/pet/)
The Zoombak locator is a rechargeable, lightweight water-resistant device (2.5 oz) that is easily attached to any dog collar. Registering and managing the device on Zoombak.com, the company's secure portal website, is quick and easy.
Key Zoombak features include:
-- Assisted GPS (satellite and GSM) technology
-- Unlimited on-demand location requests
-- A secure "point-and-click" website that is easy to personalize
-- Easy management of location boundaries ("safety zones") and alerts preferences - you can even program it to notify other family members or a neighbor
-- Free, live, 24/7, toll-free, customer care support
-- A comfortable, durable, water-resistant pouch attachment
-- A rechargeable long life battery (up to 5 days on standby)
-- Low cost monthly service plan
The Zoombak locator for pets is now available for purchase online at http://www.zoombak.com for $199 (plus a low monthly service fee starting at $9.99). It will also be sold at major national and regional retailers in early spring.
About Zoombak (http://www.zoombak.com)
Zoombak LLC, develops leading edge solutions that keep consumers connected to their families, pets and possessions. The company is led by a team of veteran executives with extensive wireless, sales and marketing, business development and operational expertise working together to put safety on the map. With offices in the United States and England, Zoombak is a privately held subsidiary of Liberty Media. Liberty Media Corporation owns interests in a broad range of electronic retailing, media, communications and entertainment businesses. Those interests are attributed to two tracking stock groups: the Liberty Interactive group, which includes Liberty's interests in QVC, Provide Commerce, IAC/InterActiveCorp, and Expedia, and the Liberty Capital group, which includes Liberty's interests in Starz Entertainment, News Corporation, and Time Warner. For more information, please see http://www.libertymedia.com.